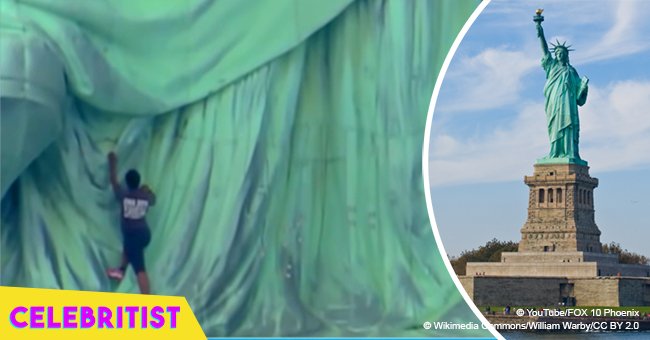 Woman who climbed Statue of Liberty pleads not guilty to trespassing for 'dangerous stunt'
A 44-years-old woman who climbed the Statue of Liberty the 4th of July in protest of Trump's administration ICE program was charged with trespassing and disorderly conduct. She pleaded not guilty.
While many people were enjoying a barbecue on their backyards or a fun day with their families, Therese Okoumou, a naturalized US citizen from the Democratic Republic of Congo, and other members of the Rise and Resist activist organization, took a holiday to make a protest against President Trump's zero-tolerance policy on immigration.
The group made a demonstration on the Statue of Liberty holding a banner that read "Abolish ICE!" but at one point, Therese decided that wasn't enough, and she climbed to the base of Lady Liberty, starting what would become a three-hour standoff with local police.
Officers from the New York City Police Department's Emergency Service Unit got a call about a woman seating at the base of the statue, and after arriving there, they tried to talk her down, but Okoumou stated she would not leave until "all the children are released."
Officer Brian Glacken said in a press conference on Wednesday that "At first, she wasn't friendly with us, but we took the time to get a rapport with her, so that took a while," and added "She just kind of mentioned the kids in Texas. I guess the whole debate that's going on about that. In the beginning, she threatened to push us off, push the ladder off, but we stayed with her."
Therese was seen crawling across the base of Lady Liberty trying to get away from the officers. At one point, she lied down on the folds of the statue's dress, and later, she sat under its sandal. Eventually, officers got a hold of the woman and put harnesses and ropes on her to bring her down the ladder.
During the showdown, Liberty Island was evacuated on what should have been the busiest day for the national park. According to reports, the Statue gets over 20.000 visitors on 4th of July, but because of Therese' dangerous stunt, many people had to return without getting to visit the Island.
The woman has been charged with three misdemeanors: trespassing, interference with government agency functions, and disorderly conduct. She could be facing up to six months in jail for each charge.
According to BBC, US Attorney Geoffrey S. Berman said in a statement that Therese "staged a dangerous stunt that alarmed the public and endangered her own life and the lives of the NYPD officers who responded to the scene."
He added, "While we must and do respect the rights of the people to peaceable protest, that right does not extend to breaking the law in ways that put others at risk."
Okoumou pleaded not guilty to all three charges in federal court on Thursday.
Please fill in your e-mail so we can share with you our top stories!