Dog leaps and cries with excitement when US soldier owner returns home (video)
When these dogs realized that their human had finally returned home again, they couldn't control their excitment for a moment. 
Freyja the German Shepherd's human dad is a military man. Unfortunately for her, he had been deployed away from home for 9 months, and hadn't been able to come home in that time to see her. 
So when he did return, the family decided to set it up to catch their reunion on camera. 
The man can be seen sitting on the couch in his family living room in his military camo. Then, off-camera, someone opens a door and the scurrying of excited paws and many happy barks can be heard coming closer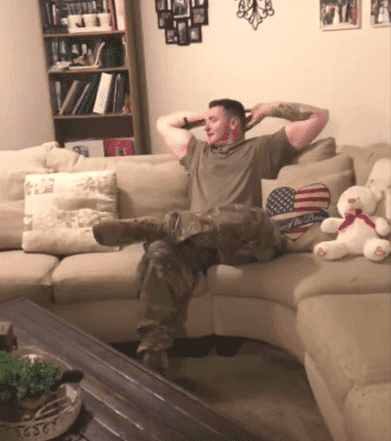 Next thing he knows, Freyja is up on the couch with her dad, happily wagging her tail as she gets to cuddle up next to him for the first time in almost a year. 
Needless to say, her human dad is just as happy to see her as she is to see him. He can't help but wrap his arms around her and scratch her tummy as she howls in excitement at his return. 
While there are two other dogs running around the couch as well - another German Shepherd and a Chihuahua - it's clear Freyja is daddy's girl, as she makes the most noise and gets the most attention from him. 
As he pats and scratches her, she wriggles around, unable to contain her joy, and trying to lick his face.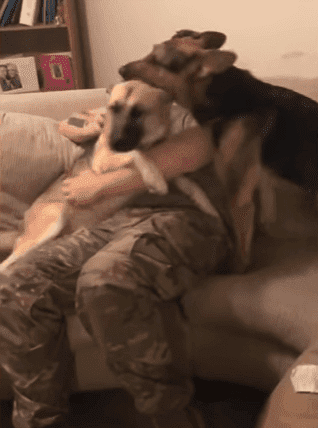 Eventually, still crying with happiness, Freyja rolls over onto her back on the couch next to her dad, and manages to stay still long enough for him to administer some much missed belly rubs. 
It's not just a soldier's human family who misses them while they serve all over the world, as the fur-babies can be just as affected by their absence, and just as excited to have them back.