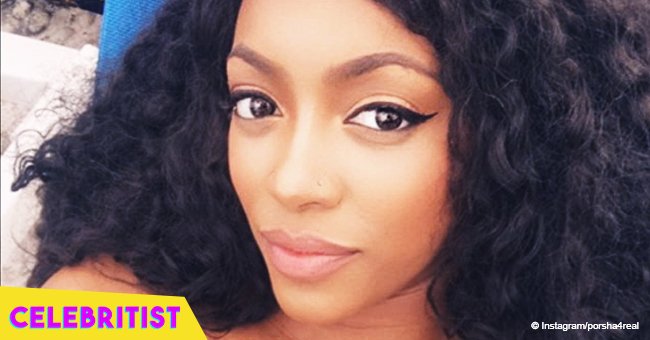 Porsha Williams sparks engagement rumors after leaving jewelry store with new boyfriend

The reality TV star was surprised to see photographers swarming her and her mystery boyfriend while they were shopping at a jewelry store, which sparked engagement rumors between the two.
Porsha Williams has been quite secretive about her new love interest, keeping his name under wraps and hiding him from her social media accounts. However, she had no escape when she was caught by TMZ while walking out of a jewelry store with her new boyfriend in tow.
Despite quite a troubling past, "The Real Housewives of Atlanta" star Porsha Williams seems to have been going through some good personal developments in the form of a new romance brewing, and a few friendships rekindled.
As previously reported by Madamenoire few weeks back, Porsha Williams and her co-star Kandi Burruss have finally made amends, after she spread false rumors about her co-star, Kandi, which almost ruined her reputation last season.
And this weekend, the 37-year-old was caught going ring shopping at the Leon Diamond Jewelry store in New York with her new mystery boyfriend. TMZ photographers who were at the scene made sure to ask the obvious question: was she shopping for an engagement ring?
Making sure not to give anything away, Williams deflected the question in the best way she could.
"We were just looking at everything."
Although Portia did not confirm or deny that she and her new beau were indeed looking for engagement rings, it is quite evident that she is extremely smitten, after a series of hinting Instagram posts that she was indeed dating someone she likes a whole lot.
Madamenoire was able to identify her boyfriend as Dennis McKinley, an Atlanta businessman. Williams has yet to publicly announce him as her boyfriend or even post his picture or name on social media, but she has been dropping numerous hints here and there that it was easy for fans to conenct the dots.
With hashtags like "#DM" and "#ManCrushEveryday", Porsha is most definitely in-love, and we sincerely wish her nothing but the best!
Please fill in your e-mail so we can share with you our top stories!