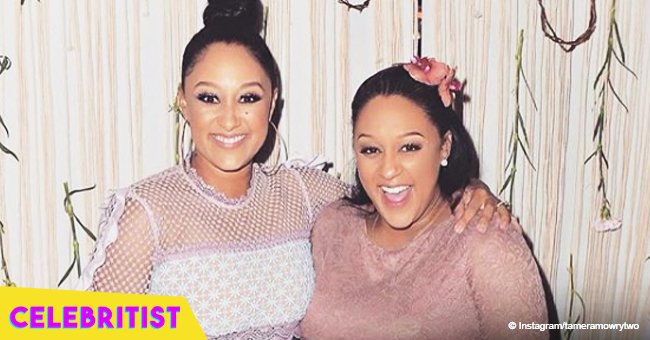 Tamera Mowry shares throwback picture with twin sister Tia on her wedding day
Now that the Mowry sisters have turned 40, they made sure to party it up with their closest family and friends. Prior to the festivities, Tamera made sure to share an adorable photo of her and her sister Tia during her wedding day.
Tia and Tamera Mowry have been inseperable since birth, and now that they have turned 40, they made sure to celebrate it with parties. Just last week, Tamera kicked off her birthday week by partying it up the Napa Valley way - with wine, cheese, and scrumptuous food. According to People, the party was made possible by her husband Adam Housley, who kept the party as a surprise from his lovely wife.
Attendees during the celebration included "The Real" co-hosts Loni Love, Adrienne Bailon-Houghton, and Jeannie Mai, who crossed the country to attend the "Sister, Sister" alumni's celebration.
Guests flocked to the Reynolds Family Winery on Silverado Trail, sipping an assortment of wines including Pinot Noir, Cabernet, Chardonnay, Sauvignon Blanc, and a red blend. For guests who were not fond of wine, a Penta Tequila tasting station was also set up during the celebration.
While Tamera seemed to have had a great time with everyone, one important person seemed to have been missing from the scene: her twin sister Tia.
Despite Tia not making it to Northern California for her sister's birthday, they definitely made sure to celebrate together in a joint party. The twin sisters gave each other a bit of hyping up on Instagram, letting each other know that they're both equally excited to see each other.
Tamera kicked off the day by sharing a sweet photo of Tia during her wedding. Her caption explained the way she seemed to have been "sniffing" her sister.
"Anyone who knows me knows that when I love you, I sniff you. This is what I'm doing in this picture. I freaking sniffing love you @tiamowry! My sister, and partner for life! Can't wait to party it up with you tonight! #thisisjustthebeggining#thisis40"
Tia on the other hand, chose to share a throwback photo of both of them wearing matching blue polos when they were much younger.
"Its our freaking birthday!!!!!! Trust, it will be a pump and dump kind of night tonight! See ya soon girrrrrl! @tameramowrytwo #thisis40
It's great to see the Mowry sisters stay extremely close through the years, and now that they've gotten another year older, all we could wish them is good health and a lot more happiness.
Happy Birthday, Mowry Twins!
Please fill in your e-mail so we can share with you our top stories!