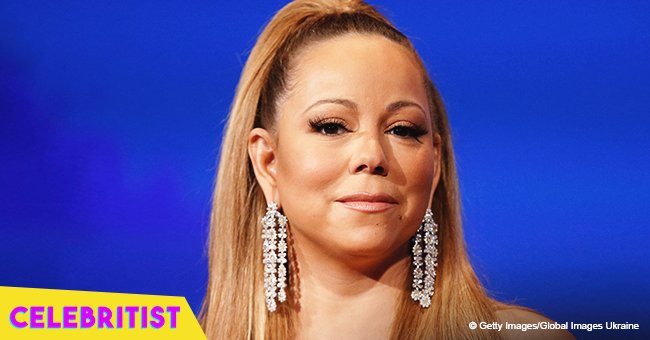 Mariah Carey again caught lip-syncing after taking a tumble on stage
The pop singer took to the stage for her first performance at her new residence, but just minutes later was caught in a lie that music fans tend to hate coming from their favorite artists.
Mariah Carey has a new show, The Butterfly Returns, at Caesar's Palace in Law Vegas. But on opening night, the singer suffered a slight setback when she fell over on stage and the audience realized she had been lip syncing.
In a video clip of the incident shared to Twitter, Carey could be seen being helped onto a rolling box by her boyfriend, Bryan Tanaka. Unfortunately, he didn't provide enough counter-weight on the box, and it toppled, with her slipping off.
In that instant, the mic was pulled away from her mouth as she steadied herself, but somehow she seemed to be continuing to sing at the exact same volume, her voice not stumbling at all despite her fall.
Despite the incident, Carey carried on with her show, not missing another beat.
Following the show, Carey stated that it was only opening night, and that she and her crew were still working out the kinks. By the time she reached the first Saturday show on July 7, she appeared to be singing mostly live.
This is not the first time that Carey has been caught up in a lip syncing scandal, after it was discovered that she wasn't singing live at her 2017 New Year's Eve performance in Times Square, New York City.
On that occasion, she was caught out when the incorrect song was played, and she was mouthing different lyrics to what was playing.
When she realized she was mouthing the wrong lyrics, she started pacing the stage and encouraging her watching audience to sing for her instead, saying she had missed her cues.
This is not Carey's first Las Vegas residency, with the first installment running from 2015 to 2017, named #1 to Infinity. Her new show is meant to capitalize on her as a singer, with most of the action from the dancers happening behind her.
Throughout the show, Carey undergoes numerous costume changes, and is of course surrounded by a team of nimble dancers as she perfroms her greatest hits.
Please fill in your e-mail so we can share with you our top stories!