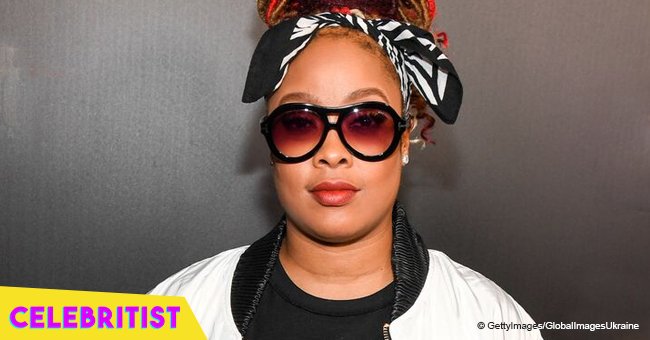 Da Brat posed with famous sister after Snoop Dogg threw a 90s-themed birthday party for her
Da Brat and her actress half-sister, Lisa Raye, had the same father, and after the tragic death of the man, they're closer than ever. The siblings recently showed off their bond in a birthday party that Snoop Dogg threw in honor of Da Brat.
Lisa Raye and Da Brat could never pass as sisters at first sight. They have remarkably different personalities and fashion styles, but they do share the same DNA thanks to their late father, David Ray McCoy, a businessman that was brutally killed in the '80s.
According to reports, David was a millionaire paraplegic that owned several hotels and nightclubs in Chicago, and he was shot to death by his girlfriend of ten years and her brother after a senseless discussion over a high electric bill. The woman called her brother to help her move the body, and they left David in the backseat of his car on a back alley, simulating a rob.
Luckily for Da Brat, Lisa, and the rest of the family, detectives were able to trace back the killer gun to Sheila Daniels, and her then 20-year-old brother, Tyrone. They were convicted of McCoy's murder in 1990. She was sentenced to 80 years and her brother to 60.
After the tragic death of their beloved father, Da Brat and Lisa's bond was strengthened, and they went off to become successful Hollywood stars. While Raye is better known for her role in the series "All Of Us," Da Brat is the first female rapper to have sold one million copies with her debut album, "Funkdafied."
The 44-years-old was signed to the record label So So Def by producer Jermaine Dupri, and he conceived her style as a female version of Snoop Dogg.
Her laidback and real-based rap earned her a following in the hip-hop genre quickly, and while many people thought she would have a feud with Snoop Dogg for their similarities, they're good friends.
They're so close that last May the rapper hosted a '90s themed party for her, where close friends and family celebrated her life while donning '90s outfits and showing their best dance moves to old school tunes in the dance floor.
The birthday girl posted several pics and videos of the joyful occasion on Instagram, wearing a denim jacket, her characteristic long, wide t-shirt, a bandana, and glasses.
In one of the pics, Da Brat posed with friends Kyla Pratt and Demetria McKinney as they showed off their best '90s hip-hop outfits.
She took the opportunity to write in her caption how thankful she was with Snoop Dogg for the party, saying:
"My girls. @kylapratt @demetria4real at @snoopdogg compound game room. So grateful. #sosoblessed #la #setitofflive #mytribe #thecompound #kylapratt #demetriamckinney #snoopdogg #californialove #90sparty"
Snoop made sure the tunes were on point through the whole night by taking the role of the DJ by himself. The rapper was decked in all white and showing off his skills not only as a DJ but also as a dancer as he shook it behind the table all night.
Da Brat shared a clip of the man doing his best and wrote in the caption:
"Maaaan I can't say thank you enough to big bro uncle @snoopdogg. He threw me a 90s shindig and the compound and had dat thang all decked out. Food, drinks, video games, festivities and the BEST part of it all SNOOP was my DJ!!!! When I tell you dis [redacted] ROCKED dat shat! OOOOOOW! Thank you and @bosslady_ent for coming to see me #SetItOffLive #californialove #mydjisbetterthanyours."
Lisa Raye also joined the celebration, and she shared an iconic photo with her sister and Snoop as they showed off their best hip-hop attitude. Lisa paid homage to her sister by wearing a white t-shirt with a picture of Da Brat printed on it, white mini shorts and a pink baseball cap.
She was also seen in a dance-off with the rapper and Kyla Pratt in one of the clips shared to her Instagram, as she recapitulated the night with her caption:
"About Last night....90s Birthday Celebration for my sis @sosobratgiven by @snoopdogg at his compound.. @kylapratt gangstas don't dance they boogie & you did all night long. Good Vibes, Good Music, Family & Friends My kinda #sundayfunday #sosobrat #Liferocks#snoopdogg #sisterlylove #sundayvibes"
We're glad that despite their terrible loss, Da Brat and Lisa have been able to move with their lives and they still have such a beautiful relationship.
Please fill in your e-mail so we can share with you our top stories!