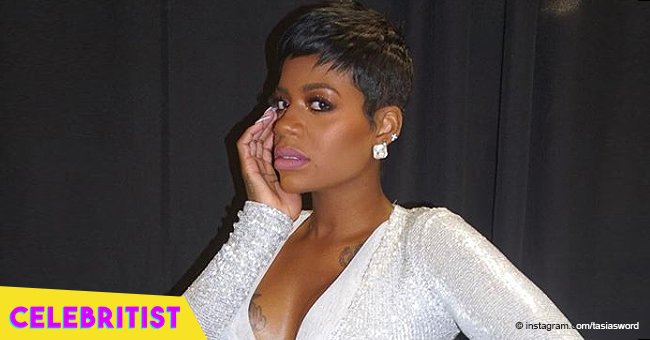 Fantasia Barrino's grown daughter turns it up in video with her curvy figure in skimpy top
Zion Barrino inherited her mother's beauty and love for the cameras, as shown in the clips posted to her Instagram account. The 16-years-old lady is not shy when it comes to showing her charm, and she seems to love the spotlight as much as her mother.
Fantasia Barrino was 17 when she had her first daughter, Zion, with former abusive boyfriend Brandel J. Shouse. The singer revealed that he was the "first guy to show her attention," but a few months after their daughter was born, their relationship turned toxic and abusive.
They broke soon after, and by the time Zion was three-years-old, and her mother auditioned for "American Idol," they were living with a man that showed them some love. In an interview with Oprah, Fantasia said:
"I was living with a man who took good care of us. I had been in abusive relationships with constant fighting and black eyes, but this man taught me that abuse wasn't love. He told me I was beautiful."
In 2014, after years of absence from Zion's life, Shouse filed for her custody in a Mecklenburg, North Carolina court, he was also seeking visitation rights and child support payments from Fantasia, who was at the peak of her career at the time.
Barrino stated through an official statement that she was expecting the judges to take the best decision for her daughter, alleging that the man never provided for the girl and was trying to take advantage of Fantasia's success.
"Fantasia also knows that all of her "Baby Mama" fans know exactly what she is going through and will support her as she continues to take wonderful and complete care of her daughter," read part of the statement.
Her mother and grandmother also became pregnant at 17, and Fantasia revealed to Oprah that it was some "curse" of her family. But the media mogul was quick to correct Barrino stating that she had the chance of breaking the pattern by securing a good education for her daughter, and that's precisely what she has been doing all these years.
Zion has grown up to become a beautiful young lady, and while she used to make appearances on red carpets by her mother's side in her childhood, these days she keeps her appearances reduced to social media, where she's always posting pics and short clips showing off her outfits and her confidence.
The 16-years-old is her mother's vivid image, and that's the reason why she was chosen to play the teenage version of Fantasia in the music video for her single "When I Met You," proving that, like her mom, she's not only a pretty face but also a talented girl.
Fantasia, as every proud mom would do, shared how proud she was of her daughter through a heartfelt Instagram post saying:
"It was so beautiful to create this video with my first born Zion. You see that glow all over her? I'm a proud Mommy and can't wait for her gifts to bless the world the way she blesses mine every single day."
Zion is very confident on her looks, as she recently posted a boomerang showing off a skimpy top, long raven locks and silver hoop earrings while riding on a car with friends and smiling goofily to the camera. Like her mom, Zion always has her make up on point, and she seems to enjoy fashion a lot.
Fantasia gave birth to her second child, son Xavier in 2011 and married businessman Kendall Taylor in 2015.
Please fill in your e-mail so we can share with you our top stories!