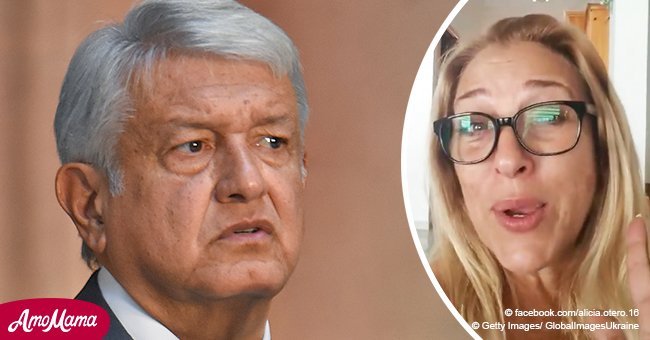 Cuban woman living in EU makes fun of Mexicans for electing AMLO
After the triumph of AMLO, many have ridiculed the Aztec country for their new president, but what this woman said made her win a position on the Internet going viral.
Alicia Otero, a Cuban woman living in the United States, posted a viral video on Facebook about the Mexican elections on July 1, a process in which Andrés Manuel López Obrador won the presidency.
The Cuban-borne used social networks to comment on the triumph of AMLO. Otero recorded a video criticizing the Mexican election of his next ruler.
In addition to defending Trump, he mentioned that Mexicans will no longer have to go looking for anything in the United States, according to an El Diaro Mexicano report.
The result of the recent elections in Mexico has given a lot of people much to talk about in various parts of the world. Read more on our Twitter account @amomama_usa
In the international arena, this was taken with good eyes by several diplomats. His opponents immediately accepted the preliminary result before the media.
However, the Cuban woman asked in the video: "What happened to Mexico?" "Why did you choose AMLO?"
The astonishment is due to the fact that it is the first time that a leftist politician will govern the largest Spanish-speaking country in the world, which is also the second largest economy in Latin America.
Until this July 6, the clip posted on the Facebook account Alicia Otero has received more than a thousand comments and many of them have been critical for the way in which the woman expressed herself.
However, many have commented on the fate of Mexico with a left leader.
The user Jully Guillen said: "What a shame that you are Cuban and you express yourself in that way ... For people like you, Obama took away the privilege they had ... Go back to your country and stop talking where you do not have an opinion, help your country and leave Mexico in peace, my family is Cuban and we know how to respect."
Meanwhile, one of the users who commented on the fate of Mexico with the new president made a strong comment.
Belkis Granado. "When the new tyrant of Mexico begins to take away the houses from their real owners and the rabble begins to rejoice, everyone will be happy, but when they lack the minimum to live, they will regret it and there will be no going back, Ahh and it will also take away FREEDOM It will be late, but surely it will be like that, it will be too late for regrets."
Until the moment this news was published, the video on Facebook had 13 thousand 'likes', had been shared 37 thousand times and had 3.5 million views.
Please fill in your e-mail so we can share with you our top stories!