PopCulture: Jacob Roloff angered many fans with his political view post on July 4
During the celebrations of 4th July, Jacob Roloff shared an image on Instagram that appeared to be a protest of either the country in which he lives; the President; or both.
According to Pop Culture, on the occasion of July Fourth, Jacob posted a picture of himself with his two feet on the American Flag. Based on his own comments, he wasn't accidentally standing on this symbol.
He was doing so on purpose as some kind of statement against the current White House leader and all it stands for.
Although his mom, Amy Roloff, did post a photo in celebration of America's birthday last week, many followers used the social media's comments section to remark on Amy's youngest son behavior.
"You might want to teach your youngest son it's very disrespectful to step on a flag and post a picture of. It's very disrespectful," one user wrote, while another chimed in as follows: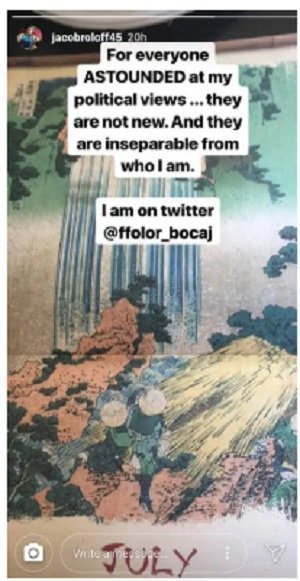 "I'm all for people having different views, but stepping on the flag and telling the president to 'f–k off' are disgusting." Read more on our Twitter account @amomama_usa
It's also evident that Jacob is aware of the controversy surrounding his flag photo, as he encouraged further talk about it on Twitter, while refusing to back down or apologize.
"For everyone ASTOUNDED at my political views... they are not new," he wrote on his Twitter account this weekend. "And they are inseparable from who I am." Jacob wrote.
The former Little People, Big World star quit this TLC show two years ago because he found it to be phony and recently went off on the ridiculous nature of reality television in his new book Out to See.
In January, Jacob announced he was engaged to Isabel Rock. They got engaged on a frozen pond in Iceland over the holidays. Amy gushed over the good news, writing on Instagram, "I couldn't be a happier mom!"