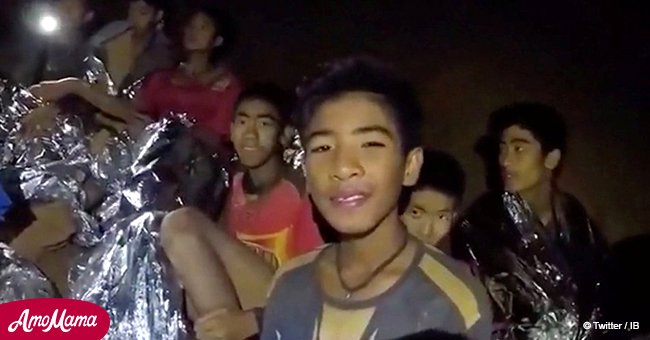 Update: All 12 trapped boys and their coach rescued from cave

The soccer team and their coach who were trapped in the Tham Luang cave in Thailand were all rescued, after going missing more than two weeks ago.
A journalist for SBS News and CNN, Omar Dabbagh, confirmed on Twitter that the boys, as well as the divers, are 'also out of the cave.' He hopes that the 'boys and the coach are in good health.'
Live updates can be seen on Twitter's 'Moments' feed, and a health official confirmed that the boys would 'remain hospitalized for at least a week.' Read more on our Twitter, @amomama_usa.
As reported by The Guardian, the last leg of the rescue mission began at 10 am today, and eight boys were initially freed from the Thuam Lang cave.
They were sent to a nearby hospital to recover while the remaining four boys and their coach were freed by divers affectionately called the 'four frogs.'
The Wild Boars soccer team went missing on June 23 after monsoon rains and floods forced them deeper in the caves. They were found the following day after a nine-hour search.
The chamber was partly flooded; Navy seals and divers equipped the boys with scuba gear. Two divers accompanied each boy out using 8mm static rope.
The lead diver carried each boy's oxygen tank while a navy diver followed. Each boy was then tethered to the lead navy diver and guided through the cave system.
According to CBS News, the third and final phase of the rescue mission 'played out quickly' as more than 19 divers assisted in the extraction process.
President Trump took to social media and thanked the divers via a Tweet.
On behalf of the United States, congratulations to the Thai Navy SEALs and all on the successful rescue of the 12 boys and their coach from the treacherous cave in Thailand. Such a beautiful moment - all freed, great job!
President Donald J. Trump, Twitter, July 10, 2018.
Please fill in your e-mail so we can share with you our top stories!