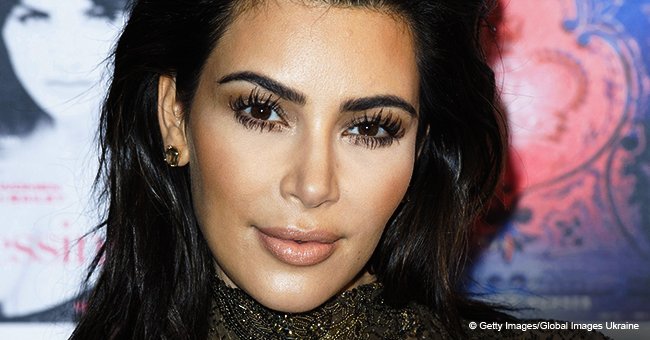 Kim Kardashian melts hearts with photo of daughter North in pink shorts and jacket

North West looks stunning in a recent pic shared by her famous mom on social media, and despite the fans' concerns about the girl's hair, Kim remains unbothered. The reality star recently opened about money and the role it plays in her kids' lives.
Kim Kardashian recently melted hearts with a pair of adorable photos she shared of her eldest daughter, North, on Instagram, after she celebrated her 5th birthday on June 15. The girl, who Kim says is Kanye West's twin, looks adorable donning an all-pink outfit.
The photo that was taken during Kim, Kanye and North's trip to New York last month for her birthday shows the girl rocking pastel pink shorts, a bomber jacket and white sneakers and her long-ironed hair tied up in a high ponytail
At the time the photos came out to the light, fans criticized Kim for straightened North's naturally curly locks, calling her a bad mom for giving the girl the impression that her hair is anything but beautiful on its natural state. Kim, of course, ignored the critics, as she has mentioned before how much North loves her curls.
Kim also shared another pic where North is hugging her and laughing while they both wear matching sunglasses and straightened hair. "Twinning," Kardashian wrote on her caption. While many of her followers took the comment section to keep on criticizing, others defended Kim and her decisions.
Instagram user @mchristiene wrote "Kim's allowed to straighten her daughter's hair. Stop tryna dominate Kim's decisions. Why can't you just look at the picture and say that it's cute?" and @lindseybaby0 added "Stop with all the rude comments. This is a beautiful picture."
On her 5th birthday, North received a $750 Handbag from designer Alexander Wang, but according to a new essay written by Kim for WealthSimple, she and Kanye are raising their three kids to be grateful about their lifestyle and not take it for granted.
While many people would assume North, Saint, and Chicago are continually swimming on expensive gifts from their parents, the 37-years-old businesswoman revealed that's not the case at all. She wrote:
"I worry about giving my kids too much. We don't do gifts. They have to really earn it. But we talk about it all the time, about not getting too much and just trying to be as grounded and well rounded as possible."
Kim revealed that once she turned 18, she had to start working to pay for rent because that's how their parents raised her. "The way that my parents taught me was, hey, when you're 18, you've seen this lifestyle, I'm sure you're going to want to upkeep it. If you're going to want to live this way you're going to have to get a job."
However, she doesn't know if it will be the same for her kids since it's a different time, but it's a discussion she needs to have with her husband.
Kim also told Entertainment Tonight last month that she has her ways of keeping her kids grounded when it comes to materialistic stuff, and she put North's birthday as an example saying:
"What I do for her birthday, she gets gifts and then she has to be really good and earn the things and do her chores and walk her dog. We have a chore chart that she has to make her bed. She has so many things she has to do if she wants to get something, so she doesn't really get a whole lot of stuff like you would think."
Please fill in your e-mail so we can share with you our top stories!