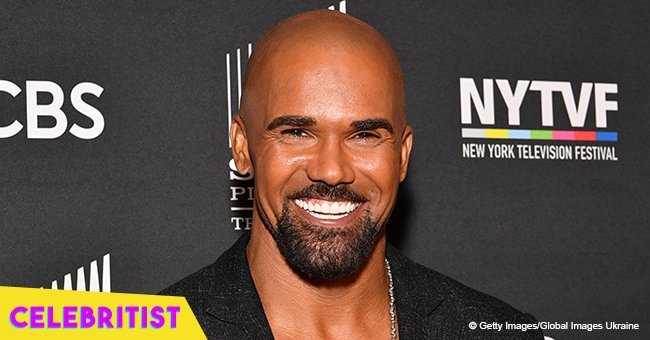 Shemar Moore melts hearts with pics of his 'baby girls' after revealing real relationship status
The "S.W.A.T" star recently took to Instagram to share a pic of three of his most loyal fans after they supported his clothing line and subsequently the National MS Society. Shemar's mother was diagnosed with Multiple Sclerosis a few years ago, so he carries the cause close to his heart.
Shemar Moore is not only some pretty face and toned abs, and his fans love him for that. He has captivated female fans of all the ages with his blinding smile, but also with his talent on the screen and the fact that he's been raising awareness about multiple sclerosis for years.
The 48-years-old actor has an online shop where he sells merch with his face and the catchphrase "Baby girl," which came out from his run on the series "Criminal Minds" and turned into the name of his fangirls.
Part of the proceeds from his store go directly to the National MS Society, and he encourages fans to buy the merchandise by offering them the chance of being featured on his Instagram account at some point. A few weeks ago, it was the turn of three young sisters - Nadira, Alyssa, and Kathy – who claim to love Shemar, who were donning Baby Girl sweatshirts on the post shared by Moore.
"Thank you for your LOVE and SUPPORT in the FIGHT for the CURE of MS (Multiple Sclerosis) Keep rocking your Gear Baby Girl in STYLE!!!," the actor wrote in his caption, and copy pasted an excerpt from the letter the girls send him expressing their love for him.
Nadira confessed she has been a huge fan of Shemar since the beginning of his career in "The Young & The Restless," and took the chance to congratulate him for making his dream come true, adding that she and her sisters enjoy watching him on "Criminal Minds" and "S.W.A.T."
Even though Shemar has a lot of "baby girls" in his life, he still has not found the official one, but he might be close.
Earlier this year, he surprised everyone when he appeared on the red carpet of the Grammy Awards with "Quantico" actress Anabelle Acosta. The pair made their way through the red carpet and even seated together at the ceremony, but weeks later, Shemar revealed that was the first time they met in person.
Speaking to Steve Harvey, he explained that he had watched Annabelle's work and offered his co-workers a round trip for two to Las Vegas if they could get her email address. After someone came forward with the required information, Shemar proceeded to send a beautiful letter to Acosta that captivated the Cuban-American actress enough to accept a date with Moore.
He recapitulated the date to Entertainment Tonight Canada saying:
"It was just like, 'Hi nice to meet you. I like what I see; you like what you see. Let's get to know each other over coffee, and I happen to have tickets to the Grammys'. And that's how that happened. It was a great date. It was kind of backward. We went big before we even knew each other's last name, not to cat and dog it. It's baby steps so who knows."
Even though the couple has not been seen together since then, Shemar admitted they're taking things slow and getting to know each other first. "We are not getting married. There's no little babies running around. We are still brand new. Like first base," he said. "And I learned that in life from prior relationships. Let's just have some fun and take baby steps."
Shemar just started filming the second season of "S.W.A.T" on Monday and revealed it will air on September, so his fans are more than excited to have him back on the screen.
Please fill in your e-mail so we can share with you our top stories!