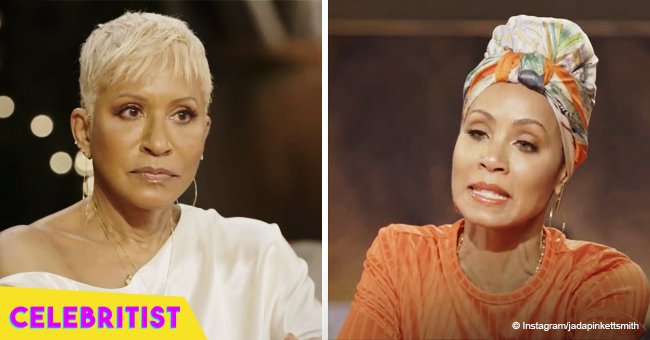 Jada Pinkett Smith's mom breaks silence on her long-term heroin addiction

Jada Pinkett-Smith's "Red Table Talk" Facebook Watch show talks about controversial issues every single week, and this time, it was her mom Adrienne Banfield-Jones who had something to say about her past. In the episode, Adrienne speaks about her struggle with drug addiction.
The mother-and-daughter duo have been extremely honest about many things during their show, and Banfield-Jones opened up about the struggles she faced while overcoming drug addiction for 20 years. Now, she has been proudly sober for 27 years, and the 64-year-old admits that it was something she suffered with by herself for quite a while. In the show, she shares:
"It's difficult to talk about something that is gonna go out to the world. I couldn't hide the unmanageability of my life, and the emotional damage and the spiritual damage I did to myself and to her. That was devastating. I abused drugs for over 20 years."
Pinkett-Smith offers her side of the situation, and how she finally realized that her mother was on the influence of heroin while she was growing up.
"I think I didn't find out my mother was addicted to heroin until I was in my teens. I could tell when my mother was high. She couldn't make it on time to pick me up from school. Or she's nodding off, falling asleep in the middle of something. You just realize, oh, that's not being tired, that is like, a drug problem."
Jada adds a bit more about how substance abuse seems to have run through her family, and it was something that many of them had to suffer and deal with growing up.
"Alcoholism and drug addiction runs through my family, and I've had my own addictions that I've had to get over. It just made me realize that really great people just get caught up."
When Jones started to fall in-love with a man she was interested in, she decided to take that opportunity to get clean and finally sober up. She claims that at that time, she didn't think she was anything without a man, and although she claims it is sad to say, she did sober up because of a man. However, after quite some time, she got to a point where she was finally doing it for herself, leaning to religion.
"I had to come to the understanding that there was a power. That God had been looking out for us, you and me both, through all of that. And I just had to let go and surrender so I could receive what he was trying to give to me, through other people. "
It is good to see Adrienne doing much better than she did before, and it is admirable that her daughter Jada has been doing her part to make sure her mother does not return to being under the influence again.
Watch the full episode here:
Please fill in your e-mail so we can share with you our top stories!