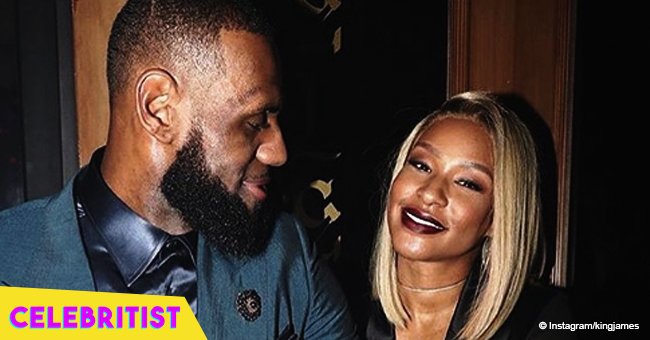 LeBron James' wife shares photo of husband and daughter in polka-dot swimsuit by the beach
Savannah James melted hearts after sharing a beautiful photo of her husband and their youngest daughter holding hands by the beach. LeBron recently signed with the L.A Lakers, and despite his fame, he always makes sure to give back to his community.
LeBron James is one of the most famous and talented basketball players in the world. In fact, many experts consider him the best player in the NBA. But despite his fortune and fame, when it comes to his family, James is still a humble husband and father.
The 33-years-old superstar recently signed a four-year deal with the Lakers that will pay him $153.3 million, and he celebrated on the down low, with his family, in a trip to Italy.
While the most common thing is to make a press conference and a huge party to celebrate such a huge deal, LeBron preferred to get away on the little free time he got with his wife and their kids.
Savannah James, LeBron's high school sweetheart and wife of five years, loves to share glimpses of their private life on Instagram for the die-hard fans of the player to see. And in one of her most recent posts, she made fans' hearts flutter by showing off the great bond her husband has with their 3-years-old daughter.
In the adorable pic, LeBron and little Zhuri stand by the beach enjoying the sun and watching the ocean while holding hands. James flaunted his toned back going shirtless and wearing black spandex pants and a bucket hat, while his daughter was rocking and black and white two-piece swimsuit and braided hair.
"#2Of4Heartbeats #MyKing #ThePrincess #ZhuriNova," Savannah wrote in her caption.
Fans immediately took over the comment section to praise the NBA star for his parenthood skills. Instagram user @g_pontev wrote "Nothing beats holding hands with your father...true love!" and @ladykajordan added "What a great pic! Nothing like a dad and his baby girl...There's no place like home."
LeBron and Savannah also have two other kids, sons Bryce and LeBron Jr. who have already started their career in basketball, following their father's steps.
Little Zhuri, on the other hand, seems to be more interested in dancing and making sure she has his famous dad wrapped around her finger.
No matter where they are, King James has proven in several occasions he would do whatever his princess asks him to. Last year, he was in the middle of a game when Zhuri asked for some candy, and to the delight of the audience, James started to ask for candy to the people around him, not going back to the game until he gave his daughter what she asked.
This shows how much the new Laker player cares, and he proves it not only with his family but also through his non-profit foundation, the LeBron James Family Foundation, which is focused on helping young people from his natal city, Ohio.
LeBron and Savannah have given low-income families the possibility of watching their kids graduate high school after they discovered a few years ago that Ohio's high school–dropout rate was 24 percent.
Through their programs, James encourages students to graduate and offers them the chance of getting a scholarship to college if they meet specific requirements regarding school work and community service.
"If there's nothing more you can do for a child, just constantly encourage them and set them on the right path when it comes to sports or their schoolwork or nurturing a hobby—with whatever it is. Just be a constant source of encouragement. That's what LeBron talks about—never give up," said Savannah to Vogue magazine last year.
LeBron continues to build his empire with his talent, and while he keeps on climbing for the top, he is making sure not to leave his people behind.
Please fill in your e-mail so we can share with you our top stories!