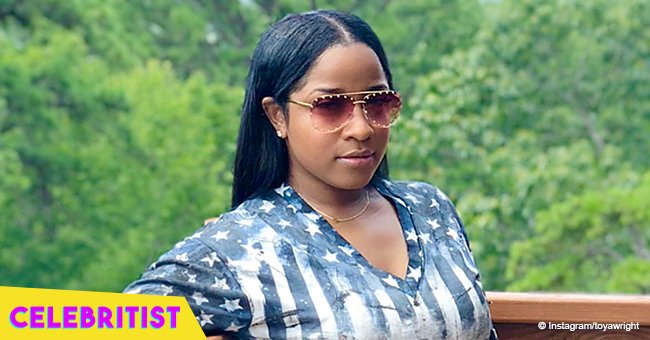 Toya Wright heats up talks after wearing the same black and white dress as Beyoncé

Toya Wright had a "who wore it better" moment against Beyonce after she wore the same body-hugging dress the concert diva fashioned recently. See who fans picked.
Toya Wright has been flaunting her curves in a variety of dresses and sexy pants lately and her newest was an Alexander Wang creation which also happens to be the same dress Beyonce wore in California before embarking on her tour with her husband Jay Z.
The 34-year-old reality star wore hers in New Orleans entertaining guests at a party with her daughters and close friends. While she matched the figure-flattering number with black pumps, Beyonce opted to wear it with white shoes.
Naturally, fans weighed in on who wore the dress better, and this is what they had to say.
"Bey just Richer Toya can dress and very pretty from that water( in my Louisiana voice)Toya rocked it..her body suited the fit best, and they both are beautiful women."
"Toya giving everyone a run for there money with that snapback. Both ladies just finished giving birth and look beautiful. I love how they both made the dress look different."
"I say Toya…… the fact that it's Beyoncé in the pic all of you going to say Beyoncé….. but the truth is Toya looks better & I'm a Beyoncé fan….. I give credit when it's needed, but after thinking it over, the fact that both of them just had babies is even more reason I would say they both killed it!"
"Love it. I hate two see our people make us feel like we always have to compete with one another … side by side with Beyonce .. I love how u put it together fashion isn't bout names, or nothing is bout your swagg your style. .. keep being you … you killing it babe."
The fact that the two women had just given birth is reason enough to applaud them both. Beyonce welcomed her twins Rumi and Sir about a year ago while Toya gave birth to Reign Rushing less than five months ago.
Toya has been heavily working out to get her post-baby body back in shape, and she's definitely succeeding. Meanwhile, Beyonce is currently on tour with her husband staging their 'On the Run II' concert series and that alone is keeping her fit.
Kudos to these two fashionable women for rocking their post-baby looks.
Please fill in your e-mail so we can share with you our top stories!