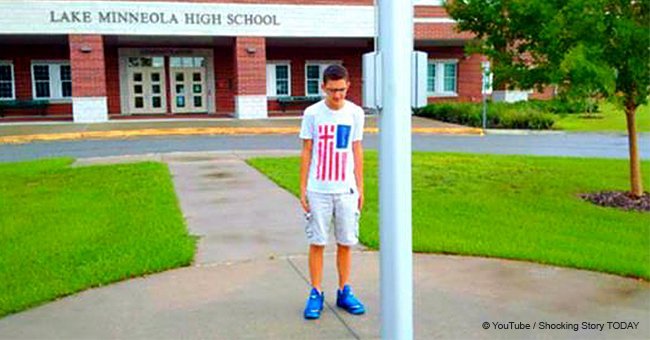 Woman discovers viral social media photo of boy standing alone at a flagpole was of her son

Stacey Philpot wrote about a proud moment in her life when her son went viral on the internet for all the right reasons.
The writer took to her blog, Her View From Home, to explain how her son, Hayden, stood alone around his school's flagpole praying in observance of the annual 'See You At The Pole' day for students.
Hayden's act quickly spread over to a local community Facebook group, where people praised the young boy for his 'courage' and 'great character.'
'I don't know who he was, but his Momma and Daddy should be proud. That takes courage. He's obviously a young man of great character,' one man commented on the community group, Philpot recalled.
Follow us on Twitter to learn more!
As she continued to read the thread on Facebook, she also found people praising the parents of the young boy for raising him up good and giving great lessons. 'There are clearly still good parents out there,' Philpot quoted another commenter as writing
Such praises made Philpot even more emotional because she never considered herself to be a great parent. She revealed that she is not able to make as much time for her children, her family, and her community as a whole due to her chronic illness.
'There is never a time in which I can offer as much of me to my husband, my children, my community as I long to. And yet, strangers were praising my parenting,' she wrote on her blog, overwhelmed by emotions.
Philpot then immediately texted her son, who was at the school, and told him about the situation. She also let him know that his parents were proud.
Her son later returned home and the mother-son duo went through several other positive comments with tears in their eyes.
Hayden later told her that he initially thought others would join him if he only started praying at the pole. Eventually, he realized that no one else would join him, but he continued to stand anyway.
Please fill in your e-mail so we can share with you our top stories!