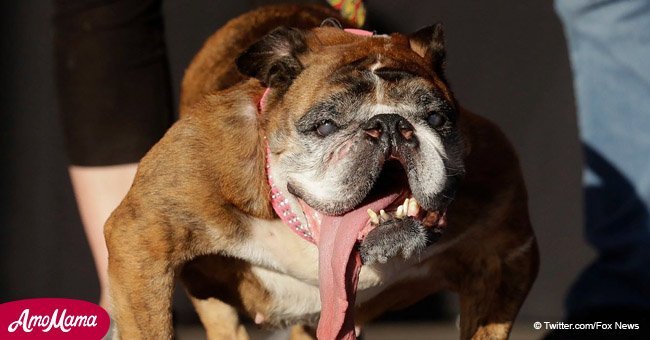 Zsa Zsa, the world's ugliest dog, has died at the age of 9
The English bulldog named Zsa Zsa, who was called the World's Ugliest Dog, passed away in her sleep at nine years old.
Zsa Zsa's owner, Megan Brainard spoke with Today and shared that her dog died peacefully in the early morning of July 10th.
Brainard said Zsa Zsa had been staying over at her father's house at the time. He woke up in the morning and discovered that the dog was already gone.
The owner and her husband, Jesse, were not around to look after Zsa Zsa since they were visiting a relative at the hospital. Brainard said their situation had been hindering them from entirely "processing" their dog's passing.
She said, "I'm still in shock ... It's kind of like when she won (the World's Ugliest Dog contest). It's been two weeks and I still don't believe it. It's probably going to be the same with her passing."
Follow us on Twitter at AmoMama USA for more details about Zsa Zsa.
When the dog was taken back to their home on the morning of July 10th, Brainard, her husband, and their 15-month-old daughter, Mareslie, had a special ceremony to say their last goodbyes to their beloved pet.
Zsa Zsa became viral after winning the World's Ugliest Dog competition. She was easily remembered by many with her floppy tongue and crooked teeth.
The competition aimed to spread awareness of pet adoption and to prove that all dogs deserve love and should be appreciated, even the not so attractive ones.
On June 25, 2018, Zsa Zsa was brought on the set of Today where Brainard revealed children would give Zsa Zsa's tongue a handshake as if it was a paw.
Zsa Zsa – named after the actress Zsa Zsa Gabor – had a hanging tongue due to her underbite and crooked upper teeth.
When she was younger, Zsa Zsa had a tough life. She spent five years in a puppy mill located in Missouri before a nonprofit organization called Underdog Rescue rescued her.
Brainard finally found Zsa Zsa on PetFinder.com.
Please fill in your e-mail so we can share with you our top stories!