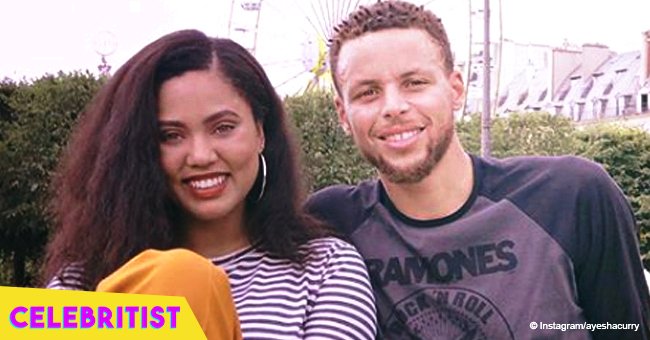 Ayesha Curry warms hearts with touching pic of husband Steph gently cradling newborn son, Canon
The Currys are officially a family of five, and Steph seems to be getting used to having his son around and has been spending a lot of down time with him in their home.
In an adorable snap posted by Ayesha, it was Steph's turn to take care of their little bundle of joy, and he proved that it is actually possible to take care of a child while doing typical dad stuff like watching sports on TV. Now that NBA season is over, the basketball superstar watched some golf instead, given that Steph plays that sport too.
"The two men in my life enjoying a little Golf Channel. Swoon. I know @stephencurry30 can't wait to get this little guy out on the course. UNTIL THEN... we wish you good luck this weekend in Tahoe dada!!! Hit em straight. "Get in the hole!" #CanonCurry"
The sweet message by the doting mom also doubled as a goodluck message to her husband, who was set to compete at a gold tournament in Tahoe now that he has some time off from basketball.
Since then, Steph has shared a golf video on Instagram, sharing a funny moment between him and his friend.
While they recently welcomed their first born son and their third child, Ayesha and Steph have made sure to give each of their childen equal amount of attention. During their second born child's birthday, the Curry parents made sure to greet their little Ryan a happy 3rd birthday in their own ways.
"Shout it to the rooftops Happy Birthday Chookah Chookahs! If I ever need a laugh or to get checked- I know who to turn to! You are one of a kind! Love you. #BigThreeYrOld"
"My baby girl is 3 today! To say time flew by would be an enormous understatement. Newest big sister on the block and already doing a flawless job. She's by far the funniest, sassiest person we know and we wouldn't have it any other way. I can't wait to see her negotiate the heck out of her dad when she gets older with her wit. It's unmatched. Happy birthday to our Ryan Carson! The big 3! Okay, back to crying my eyes out all day now. "
Aside from Ryan and their newborn son Canon W. Jack Curry, the couple also shares a daughter named Riley, 5 years old. Steph Curry and Ayesha Curry have known each other since they were teenagers, but only pursued one another when they got older. They married in 2011, and have been happily married since.
Please fill in your e-mail so we can share with you our top stories!