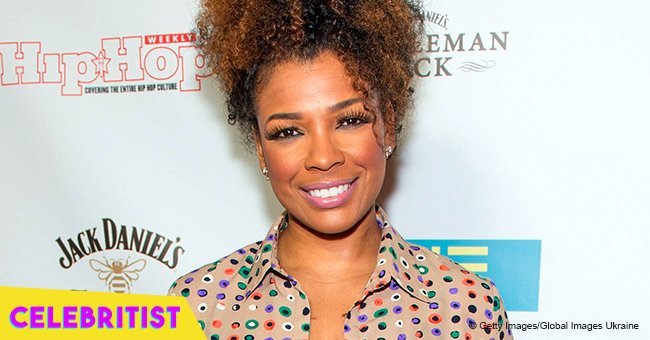 Syleena Johnson melts hearts in pic, celebrating 11th anniversary with retired NBA star husband
The R&B singer and the former NBA basketball player have been married for over a decade, and seem to be just as in love today as the day they tied the knot.
Syleena Johnson and Kiwane Garris tied the knot on July 1, 2007. Since then, the couple have had their ups and downs, but have always stuck by each other's sides, even through a marriage boot camp on reality television.
On the day of their 11th anniversary, Johnson took to Instagram to share a sweet selfie of the two of them together.
"Happy Anniversary to my love and my friend! 13 years together, 11 years married today," she captioned the four adorable photos of the two of them looking cozy.
In the first image, the pair stood cheek to cheek with Johnson's blonde curls could be seen waving above her head and into her face.
The second shot showed her husband leaning on her shoulder as they smiled at the camera. Another shot was taken from up high, and showed Johnson's hair braided.
The final photo had her sitting in her husband's lap in a pretty white dress with a long dangling necklace and her arm aorund his shoulders.
The couple decided to undergo some marriage counseling on season 2 of WE tv's Marriage Boot Camp: Reality Stars in 2015, something that surprised their fans, as there had never been an indication of dissent.
But while the couple seemed happy and in love on social media and on camera, they had hit a rough patch behind closed doors, and were smart and humble enough to ask for help before their relationship became irreparable.
At the time, Johnson was still living her life in the spotlight, while Garris was having to adjust to life as a stay at home dad. They hoped that by joining the show they would strengthen their relationship.
"We had to make the decision together," Johnson said. "He didn't want to go at first, but I did because I like therapy and I know what it has done for us. This was just another chance to work on our marriage."
Following boot camp, the couple seemed to have patched up the holes, and came out stronger than ever before.
"The program was extremely beneficial and I am glad that my husband and I did it. It was tough though. It was hard work. It is a real program with real exercises," she said after going through the process.
3 years later, the pair are still going strong in a happy marriage together.
Please fill in your e-mail so we can share with you our top stories!