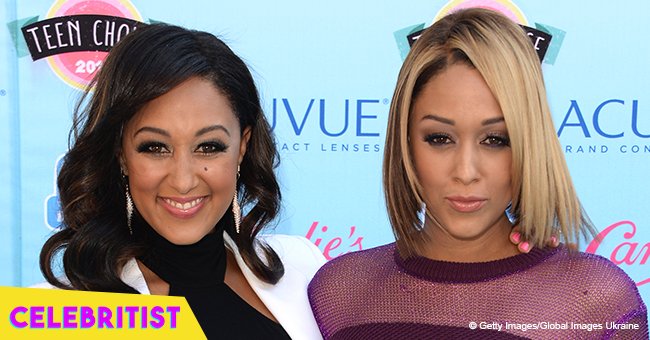 Tia and Tamera Mowry rock long curly hair in recent pics from their 70's themed bday bash
Tia and Tamera Mowry had a blast on their 40th birthday bash where they sported afro dos and bell bottoms for a night of disco dancing. The twins also revealed why they decided to have a party and what turning 40 means to them today.
Tia Mowry-Hardrict and Tamera Mowry-Housely just turned 40 on July 6, and they opted to celebrate the milestone with a 70's themed birthday bash on Saturday.
The identical twin sisters fashioned bell bottoms and afro hairdos as they entertained family and friends including their younger brothers Tahj and Tavio rat Good Times at Davey Wayne's in Hollywood. Tia rocked an all-black shimmery ensemble while Tamera blushed in shiny pink.
According to Tia, the last time they had a party together was when they were 21. Then life happened and throwing a birthday party now seemed like a good idea. She told People,
"We live very kind of busy lives and I really wanted us to slow things down for a minute and take the time out to celebrate. The last time we had a party together was when we turned 21. We have our individual careers, but I just felt like it was something we needed to celebrate together."
Tamera added,
"We didn't miss a beat. It was kind of like when you're with your friend that you hadn't seen in a long time and you get together and it didn't feel any different. It felt like it was just yesterday."
The affair had the duo dancing the night away to disco tunes with classic bites on the side including hotdogs, hamburgers and grilled cheese sandwiches. A colorful retro birthday cake was also in the house created by Dani Flowers Bakery.
Describing their feeling that night, Tamera said,
"We were both able to relax and just be together with our friends for like three hours. My sister and I were just on the same page, and it was awesome."
Reaching the 40th mark made the famous sisters realize how nothing has changed despite their leading separate lives. Their bond remains unbreakable.
"What I've learned over the years, especially being twins, people tend to view twins together and think that everything that they do has to be the same. Tamera and I, what we've done and what we've learned over the years is to embrace our differences because by us being able to be individual people, we've been able to thrive. Just like in any type of relationship. You have to know who you are, you have to be content with who you are. When you celebrate your individuality, you become stronger together."
She added,
"I think what I've learned is to embrace and respect our differences. We're night and day. With sisterhood, it's so wonderful and powerful. Being a woman in generalis hard, but when you have someone who's going through the same milestones, you're able to talk to each other and learn from one another. If you see that your sister can do it, then you're like, 'I can do it too.'"
What a truly happy birthday they had!
Please fill in your e-mail so we can share with you our top stories!