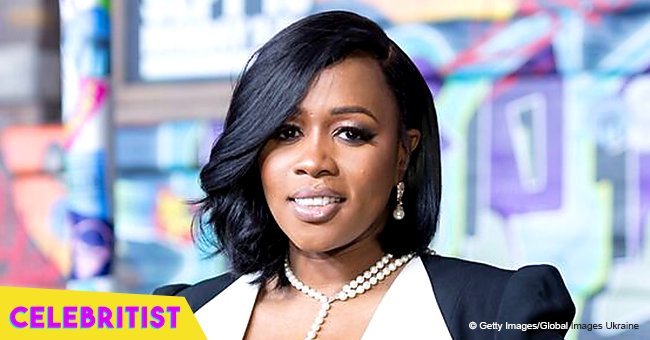 Remy Ma flaunts curves in patterned leggings and high heels after anouncing pregnancy

Remy Ma's curvy physique is a sight for sore eyes after announcing she's 14 weeks pregnant while renewing her vows to her husband Papoose. This also prompted a word war between Papoose and 50 Cent when the latter commented on Remy's sexy figure.
Ten years of marital bliss and with her first pregnancy on the way, Remy Ma rocked a figure-hugging number at the Essence Festival.
The 38-year-old rapper flaunted her curves wearing patterned leggings, a clingy white top, and high heels as she struck a pose during the annual event. The photo she captioned "Reminisce" revealed a glowing mom-to-be who recently announced she was 14 weeks pregnant coinciding with her renewal of vows with her husband Papoose.
In an emotional video she shared documenting their second wedding, she and her husband surprised their guests with the announcement of their pregnancy. Remy began,
"Although we told you all guys we were bringing you out here to renew our vows, which we are, we also wanted all of our family here when we told you guys…"
"We're going to have a baby!", Papoose interjected while placing his hand on his wife's stomach.
Guests cheered in delight over the good news especially since this will be the couple's first child. Remy revealed in her caption how she'd lost seven pounds feeling sick during her delicate state.
The singer also posted another photo to pay tribute to her husband and their marriage.
"This weekend I celebrated a milestone with my best friend, my partner in everything, my husband, my forever @papoosepapoose I love you so much- not only because you are the perfect soulmate but because you are the epitome of a real man, the essence of a great father, and the definition of loyalty & if I could start life over the only thing I would change is meeting you sooner so that I can spend more time with you."
Meanwhile, just a week after their romantic wedding, the couple faced a controversy involving 50 Cent. The mischievous rapper commented on one of Remy's recent posts that had Papoose firing back. This was the photo where Remy appeared slim and sexy which earned 50 Cent's attention.
This prompted the rapper to comment,
"Damn Remy you lost mad weight, hey slim,"
In response, Papoose threw shade at 50 Cent and involved one of his baby mamas in the process.
"Damn, Daphne Joy no wedding yet? If 50 Cent doesn't marry you…I'll introduce you to my homeboy. He's more mature."
50 Cent wouldn't let it go. Shortly after, he fired back insinuating Papoose was an overzealous husband.
Please fill in your e-mail so we can share with you our top stories!