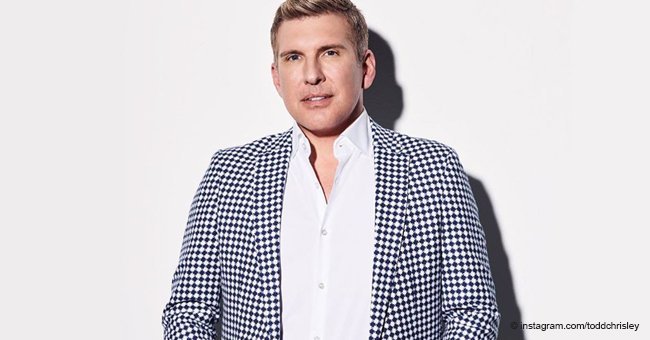 Here's how Todd Chrisley welcomed newest member of his family with a sweet snap
The real estate mogul has apparently offered his congratulations to his youngest daughter regarding the new man she has started dating recently.
20-year-old Savannah Chrisley has her father's blessing when it comes to the new man in her life, ice hockey player Nic Kerdiles. The couple have been dating since January 2018.
Her father, real estate mogul and reality television personality, Todd Chrisley, officially welcomed Kerdiles to the Chrisley family via an Instagram post on June 3.
But while he was happy for the couple, he made it clear in the caption that Savannah and Kerdiles are not engaged, and the post was merely a "welcoming to our family while we see what God's plan is"
Todd explained: "When you've done everything you can to set [Nic Kerdiles] up to fail and he still passes with flying colors. God, if this is your plan, let me step out while you step up."
Todd's post has been liked more than 90,000 times, and his fans rushed to the comment section to commend him for welcoming Kerdiles into the family so openly.
Kerdiles himself commented on the post, saying: "Don't make me cry over here Todd. Thank you guys for allowing me into your amazing family! You guys are amazing."
Instagram user Sherry Bradshaw said she approves of Kerdiles, adding that he is classy, kind, handsome, considerate, and gentle.
Heather P Green hoped that an engagement would be announced soon and congratulated Todd on is the newest addition to the family, while Jennifer Fernandes said they make a beautiful couple.
A user known only as Sandy Blonde was happy for Savannah and added that Kerdiles must be a "fine young man" if he passed Todd's tests. Riofeijoo concurred, adding that Kerdiles "is the one."
The couple's relationship was announced publicly early this year, and Savannah has shared sneak peeks of their journey with her 1.6 million Instagram followers.
In May, she shared a photo of a smiling Kerdiles and wrote in the caption that his smile lights up a room. In another post, she said: 'just when you thought Nashville couldn't get any better.'
Kerdiles has been playing hockey since the age of six when he moved to California with his family. His professional career started in 2014 when he signed a 3-year-contract with Anaheim Ducks.
Meanwhile, Savannah is the youngest of Todd's daughters, and his second youngest child. He shares two children with ex-wife Teresa Terry, daughter Lindsie and son Kyle.
He then married Julie Hughes, with whom he has three more children, Chase, Savannah, and Grayson. Todd also has two grandchildren, Chloe (from his now estranged son Kyle) and Jackson (from his daughter Lindsie).
Please fill in your e-mail so we can share with you our top stories!