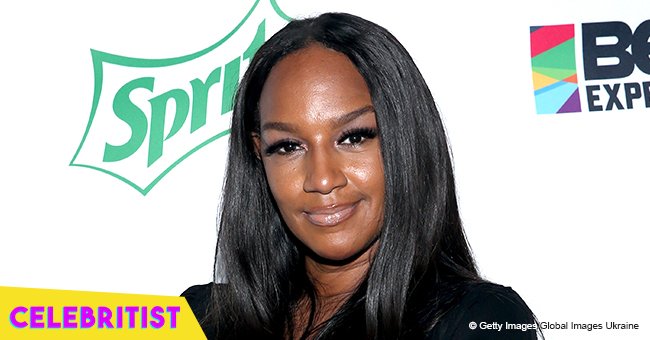 Jackie Christie stuns in long, black gown in recent video from wedding-vow renewal

Jackie Christie gushes over her latest renewal of vows with her husband of 22 years as she stuns in the same dress she wore on their 20th anniversary.
Married couple Doug and Jackie Christie are 22 years strong, and it's not surprising since they make it a point to renew their vows every year.
This July, Jackie remarried her husband again wearing a beautiful long black gown, the same one she wore during their 20th anniversary wedding renewal in Portugal. In a video the 'Basketball Wives Los Angeles' star shared, she stood in front of her 22-time groom who cleaned up nicely in a blue suit, as they held hands and each repeated their vows in front of a minister.
"To have and to hold, from this day forward, in joy and celebration, in love and understanding, I pledge you my faith. You are amazing, you are beautiful, you're powerful, you are my best friend, you are the love of my life. Let's keep doing this."
Jackie gushed over their special day as she wrote the caption,
"pieces of Us July 8th 2018 @Apple Iphone video! simple sexy and hella good times my bff My Mandingo warrior my personal massuce my Baybay!!! Just Fineeeeee! #Wedoitourway#christiewedding #christiestakevegas #23rd @chenoarunningfox #jackiechristie@nba #NBA #sacramentokings #sacproud#dougchristie #vh1 #bbw #loveissexy#loveisreal #HBO #itsouranniversary Dress | @sachikaofficial also worn in Portugal at surprise wedding!! Loved it tooo much!"
Back in 2016, the Christies celebrated two decades of marital bliss with a surprise wedding in Portugal which was featured on the season finale of their VH1 reality show. Jackie was on a girls trip when Doug surprised her at the Pena National Palace by showing up with their children waiting at the altar. Dog and the kids planned every detail of the surprise including the dress and make-up. The couple shared photos from the day along with throwback photos from their marriage.
Doug and Jackie were married in 1996, merely three days from their engagement. They've been together for 15 seasons of Doug's NBA career and 5 seasons of their reality show.
Please fill in your e-mail so we can share with you our top stories!