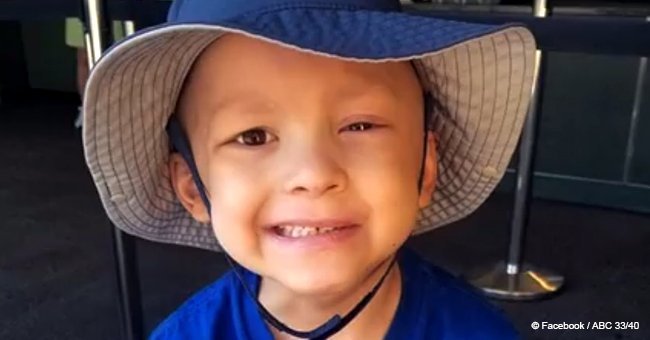 5-year-old boy writes his own obituary before dying from rare cancer
Five-year-old Garett Matthias, or Great Garrett Underpants, made unique requests for his burial ceremony in the obituary he wrote himself.
The little boy from Van Meter, Iowa, who was diagnosed with a rare form of pediatric cancer, passed away on July 6, 2018, reported WKRN.com.
The Matthias are devastated with the loss of their son, Garrett Matthias. The five-year-old boy passed away after his battle with pediatric cancer.
However, he took the help of his parents to write his own obituary so he could tell the world what kind of person he was.
Ryan and Emilie's hearts broke when their little one used to ask them why he was always sick. They knew he would leave the world, but it was disheartening anyway.
The mother said, "We never necessarily talked about his funeral, so we never had the conversation with him that he was going to die, but we had a lot of conversations around, 'When I die I want to do this.'"
Garrett, or "Great Garrett Underpants" as he was popularly known, was a superhero fan and loved thrash metal music. His actions only proved that he was not a typical child.
His obituary reflects the uniqueness, detailing the things he loved and those he did not. For instance, he expressed that he loved Batman and Thor, while he hated pants, needles, and the illness.
The little boy from Iowa made up his last name as Boofias because his real name was difficult for him to pronounce.
About nine months ago, Garrett was diagnosed with cancer. Just before he passed away, he made some requests. He did not want a funeral as they are sad events, but he wanted a party with five bounce houses, a visit from Batman, and his favorite treat – a snow cone.
The little one also wanted a symbolic Asgardian burial ceremony just like the one in his favorite movie, Thor.
Garett wrote, 'I want to be burned (like when Thor's Mommy died) and made into a tree so I can live in it when I'm a gorilla.'
Emilie said they had shed oceans of tears since his diagnosis and were determined to make their son's wishes come true.
In honor of the boy's wishes, the parents decided to celebrate life on July 14, 2018, in Van Meter, Iowa. The symbolic burial and fireworks would be held after sunset.
Please fill in your e-mail so we can share with you our top stories!