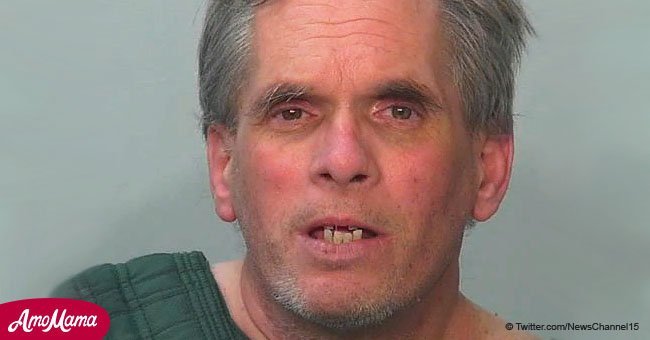 Child-killer caught 30 years after the murder of 8-year-old April Tinsley
Eight-year-old April Tinsley's murder had been a cold case for such a long time. After three decades, the police finally captured the child-killer.
Fort Wayne Police and ISP arrested 59-year-old John Miller after he reportedly confessed to the 1988 murder of Tinsley to the detectives.
According to a probable-cause affidavit filed in Allen County Superior Court, crucial DNA evidence was fished out of Miller's trash, which ultimately led to his arrest.
Miller was arrested and questioned by the authorities.
Follow us on Twitter at AmoMama USA for more details about Tinsley's death in 1988.
The police asked Miller if he knew why they wished to speak with him. The suspect blatantly replied, "April Tinsley."
According to the Washington Post, Miller admitted to the murder and rape of Tinsley, as well as confessing he kidnapped her from a house located in Hoagland St., Fort Wayne.
At present, Miller is facing charges with murder, child molesting, and confinement.
In 1988, Tinsley's body was found lifeless. Evidence revealed she had been sexually assaulted and asphyxiated.
After two years, authorities found a haunting message in a white building near the place where Tinsley's body was found.
The written message was a confession from the killer, as well as a threat that caused fear in the community.
"I kill 8 year old April M Tinsley. [D]id you find the other shoe haha I will kill again," read the message.
Allegedly, Miller confessed to having found the girl's shoe in his car and threw it at the place where he disposed of her body.
Although, the message found by the authorities was not much of a help for the police.
The case stalled and the killer continued to haunt Fort Wayne, leaving haunting messages to young girls.
He also left used condoms and Polaroids of his naked, lower half body at little girls' bikes and mailboxes, who he claimed were his next targets.
Miller's messages were the key to help with his arrest.
At the time, not much was done with the lack of advanced technology. With the scientific breakthrough of pairing forensic DNA with genealogical research, the then-cold case had a way to be solved after many years.
With the help of Parabon NanoLabs, a company based in Reston, Virginia, they were able to match the DNA evidence found in Tinsley's underwear, the used condoms Miller sent to other girls, and the ones found in his trash.
Tinsley's case had been quite famous over the years and had gained quite the media attention.
Her story was featured on America's Most Wanted twice, as well as in an episode of Crime Watch Daily in 2016.
Please fill in your e-mail so we can share with you our top stories!