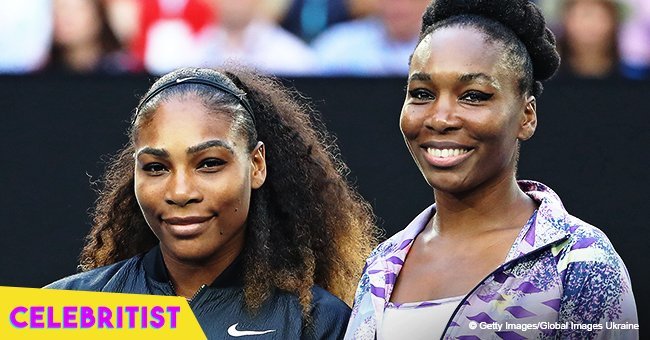 Venus Williams shares photo showing support to sister Serena after her Wimbledon loss
Venus Williams applauds her sister Serena Williams following her recent loss at Wimbledon. She joins many women who have been inspired by the new mom who displayed strength amid adversity.
Venus Williams took a moment to laud her sister Serena Williams despite her recent loss at Wimbledon.
The 38-year-old who herself exited the tournament after the third round shared a photo of her younger sister and expressed how proud she was of the competing new mom in her caption.
"I'm so PROUD of this one!"
Serena failed to attain what would have been her 24th Grand Slam title and eighth Wimbledon championship after she lost against Germany's Angelique Kerber in the finals. However, Venus, along with many women, didn't see her defeat as a loss but rather a show of strength from a woman who just came back from maternity leave after a life-threatening childbirth and made it to the finals still.
Even Serena admitted at the outset of Wimbledon that she returned to the competition not for the mere purpose of winning but to prove that anything is possible despite being faced with challenges and setbacks. She revealed during a post-match interview that she dedicated her final game to all mothers.
"To all the moms out there, I was playing for you today. And I tried."
"I'd just like to tell all the moms, I had such a long struggle to come back and it was really difficult.
"Honestly I feel like if I can do it, they can do it. I'm just that person, that vessel, that's saying, 'You can be whatever you want to be. If you want to go back to work . . . to me, after becoming a mom, I feel like there's no pressure to do that because having a child is a completely full-time job."
Just ten months after giving birth to her daughter Olympia, Serena managed to reach the finals of Wimbledon, her fourth tournament since returning from her 13-month maternity leave. This achievement is a feat in itself as many mothers know full well the sacrifice it takes to compete in the highest ranks of tennis while handling the responsibilities of motherhood.
Following her defeat, Serena remained steadfast in her commitment to return to the court and hopefully secure her 24th Grand Slam next year.
"I'm already deciphering what I need to improve on, what I need to do, what I did wrong, why I did it wrong, how I can do better - that whole madness that goes on in my mind."
Serena is a true sportswoman who knows how to accept defeat and yet continues to strive to be better. Something her sister and the rest of the world could be proud of indeed.
Please fill in your e-mail so we can share with you our top stories!