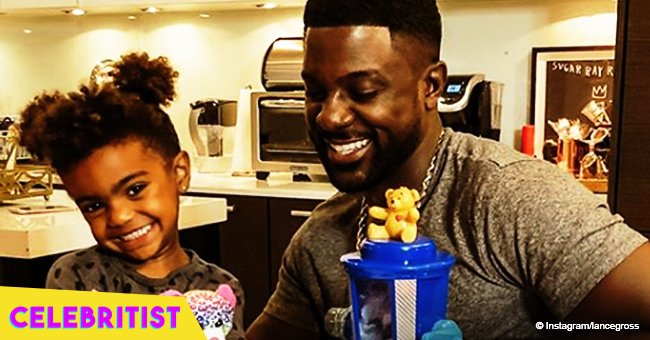 Lance Gross' 3-year-old daughter steals hearts in Hawaiian outfit in recent pic

Lance Gross shares a sweet photo of his three-year-old daughter channeling a princess moment just days after welcoming his son.
Barely a week after he welcomed his second child, Lance Gross shared a lovely photo of his daughter Berkeley Brynn dressed in Hawaiian costume at the princess-themed spa and tea parlor Le Petite Princesse.'
The adorable three-year-old delighted in her 'Moana' moment as she posed alongside the establishment's designated Moana for a picture perfect snap. Her father gave it importance by sharing the photo on his Instagram, proof that she's still daddy's girl despite a new family member threatening to steal the attention from her.
On July 10, just two days after the actor celebrated his 37th birthday, his wife delivered their second child, a son they named Lennon Lorin. Lance made the announcement on Instagram by posting a black screen with his newborn's name, date and time of birth scribbled across it. He also rejoiced in his caption over the excellent timing of his son's birth.
"Celebrated my Born Day on the 8th and today I'm celebrating my son's! God is Good!"
Lance and Rebecca revealed they were expecting another child three months ago when Rebecca shared an Easter photo to commemorate the occasion. The wacky snap featuring the then family-of-three sticking their tongues out as they sat alongside a surprised Easter bunny revealed Rebecca's grown bump. Their greeting revealed they were indeed welcoming another child.
"Happy Easter! From our growing Family to yours!"
Now with a family of four, Lance rejoices in being a two-time father. Upon welcoming his son, he shared a precious photo tending to the newborn wearing a shirt that read "daddy." His smile revealed a happy dad who looks forward to raising his new child.
Meanwhile, Lance and his daughter have a special bond as photos from his Instagram account reveal. He would often play with her and do crazy stuff with her. They even went to Disneyland to celebrate the Fourth of July. Here are some of Lance's posts with his daughter.
Please fill in your e-mail so we can share with you our top stories!