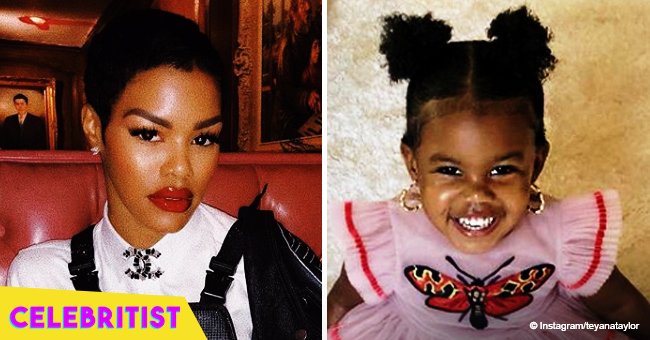 Teyana Taylor's baby daughter Junie steals the show in lacy Gucci dress & sandals in recent pic
Teyana Taylor's two-year-old draws attention to herself again in a new photo after stealing the spotlight from her mother during a recent interview.
Teyana Taylor's daughter Junie always manages to draw attention to herself every chance she gets. In her mother's latest post, she joins her parents in a dance number and just steals the whole scene.
The two-year-old named Iman "Junie" Shumpert after her father Iman Shumpert kept up with her parents who appeared to be showcasing their dance moves as their daughter held her own in a photo the singer shared. She was dressed in a ruffled pink Gucci dress and fashioned pigtails while attempting to put her heart up as her mother revealed in her caption.
"Junie do you love me? are you riding? Said u never ever leave from beside me. Junie was in the middle of putting her heart up lol"
This is not the first time the youngster stole the spotlight from her parents. During Teyana's recent interview on the 'Angie Martinez Show' to promote her show 'Hit The Floor' along with her new album, 'Keep That Same Energy,' Junie surprised the show's host by grabbing the mic and making the interview about her. While playing with her dolls and snacking on popcorn, she suddenly broke out in song as her mother and grandmother watched beside her.
When asked what her favorite song was, she began singing 'Issues/Hold On" and her mother sang along. The track is from Teyana's latest album produced by Kanye West which was just released in June.
It was a few months back when Teyana lamented attending Fashion Week after Junie suffered an allergic reaction to a mosquito bite in her eye. Putting motherhood first, the singer told her husband that if her daughter's condition doesn't get any better she was willing to skip the annual event as much as she loves it. She even asked for her grandparents' help and relied on prayer to pull her daughter through.
More of Teyana's family life is featured on her show 'Teyana and Iman.'
Please fill in your e-mail so we can share with you our top stories!