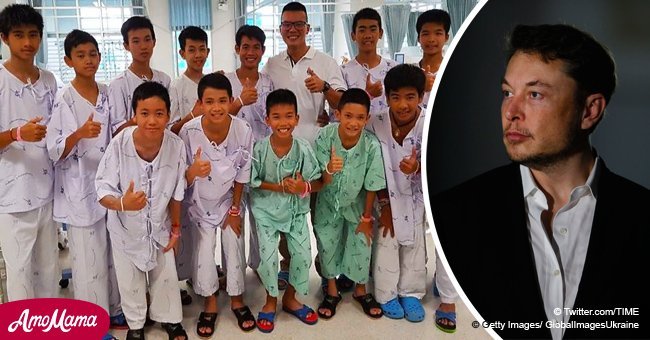 Elon Musk calls rescuer of trapped Thai cave boys a 'pedo' in Twitter attack
Elon Musk was slammed on social media after he allegedly called a British diver who successfully saved the trapped boys in a flooded cave in Thailand a "pedo" on Twitter.
Previous reports revealed that 12 boys and their football coach were trapped inside the Tham Luang cave complex and were rescued by an international team, including British cave explorer Vern Unsworth.
Musk, the chief executive of Tesla, offered to help with the rescue mission by sending a submarine to the site, but his request was turned down.
On July 15, Musk allegedly raged on Twitter and said that he would prove on video that his mini-sub could have successfully rescued the trapped victims. Then he supposedly added, 'Sorry pedo guy, you really did ask for it.'
The accusation, which was alleged as baseless and without context, was aimed at Unsworth who had said that Musk's offer to help the rescue mission was a "PR stunt."
Talking about the submarine, Unsworth suggested that it would have never worked.
"He had no conception of what the cave passage was like. The submarine, I believe, was about 5ft 6in long, rigid, so it wouldn't have gone round corners or round any obstacles," he said in an interview.
Musk was said to have visited the cave, but Unsworth revealed that he was asked to leave immediately. Unsworth told CNN that Musk should "stick his submarine where it hurts."
As for Musk's Twitter rants, one user pointed out that the billionaire was 'calling the guy who found the children a pedo.' Supposedly, Musk replied back, 'Bet ya a signed dollar it's true.'
Following his tweets, many Twitter users criticized Musk for his wild allegations, which could still have legal implications if Unsworth decides to sue. Later that day, Musk deleted his tweets, including his reply to the Twitter user.
Please fill in your e-mail so we can share with you our top stories!