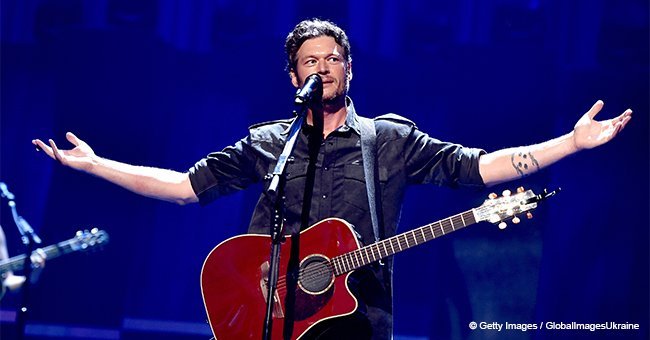 Video emerges of drunk Blake Shelton falling on stage
Last Saturday country singer, Blake Shelton had a performance in Oregon. During his performance, he suddenly fell on stage.
The star, not embarrassed about the mishap, blatantly asked fans on Twitter to share the video of the incident. His fans obliged and he joked about the drunken moment.
Blake Shelton, 42, performed at the Pendleton Whiskey Music Fest on Saturday. A tweet he sent the following day revealed that he'd been drinking heavily when he fell.
He asked fans to post the video of him falling as he wanted to see it. Shelton added truthfully, 'And yes I had been drinking. A lot..'
For more on this story go to our Twitter account @amomama_usa. A fan responded by posting a clip taken by their friend at the concert.
Another fan sent a close-up of the star's fall. The videos showed Shelton speaking during a musical interlude to one of his songs
'Ok Pendleton I know somebody is bound to have video of me falling on stage last night!! Please!! I have to see it!!! Post that [expletive]!'
Blake Shelton, Twitter, July 15, 2018
His guitar player got to perform a solo. At one point, Shelton points and laughs before falling right onto his backside but he quickly rolls over and gets up.
He's seen trying to fix a mic that has fallen over and then raises his hands up as if to say 'oops.' The musician is saved as a violin player takes the stage.
A slow-motion version of Shelton's fall was also shared. The musician jokingly tweeted that he blamed fellow performer Pitbull for his fall.
'By the way @pitbull...I blame you. It was my attempt at competing with your show... I am a dancing [expletive] when I don't take a 10 second giant [expletive] fall...,' the star wrote.
An upset fan felt the star's behavior was uncalled for. Shelton responded with a clap back where he told the fan to get a sense of humor.
Most of his fans just laughed along with the singer and posted gifs of people and dogs falling.
Please fill in your e-mail so we can share with you our top stories!