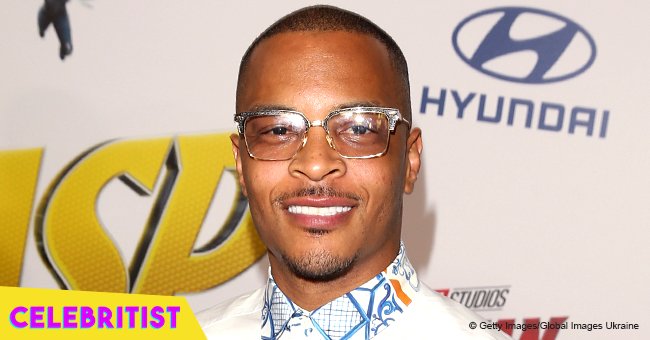 T.I's rumored love interest flaunts curves in green swimsuit in recent pictures
Asia'h Epperson earns Tiny Harris' fans' ire after supposedly throwing shade at T.I.'s wife in her recent posts where she flaunts her assets in a skimpy swimsuit. Responding to the accusation, the model finally set the story straight and revealed the truth behind her alleged relationship with the rapper.
Just as the controversy surrounding her alleged involvement with Tiny Harris' husband T.I. seemed to have died down, Asia'h Epperson is once again placed in a bad light after she shared photos from the beach on Tiny's birthday and was accused of shading the star in the process.
July 15 was Tiny's birthday, the same day the Xscape singer revealed T.I. gifted her with a brand new convertible along with shopping bags filled with designer shoes. But it was also the day her alleged nemesis, Asia'h posted a series of photos that many believed had every intention of slamming Tiny.
In the first snap, she donned a thong green bathing suit that flaunted her butt, the same one T.I. was caught on video slapping that started the whole rumor about them. To accompany the photo, she wrote,
"Many can see the image, but few can get the picture."
In a second pic, she posed provocatively along the seashore and captioned her photo,
"This that type of all natural money can't buy. #God's work."
Soon after that particular post, the Xscape singer's fans suspected Asia'h was subtly throwing shade at Tiny magnified by the fact that she posted them on her 43rd birthday. Some claimed she was suggesting her body was natural as opposed to Tiny who's known to have undergone cosmetic surgeries. She admitted to having had liposuction, butt implants, and a breast augmentation. Moreover, she's known for changing her eye color from brown to light grey. In fact, she did the surgery in Africa because it was illegal in America.
With the outpour of accusations that came her way, Asia'h thought it best to respond and clarify that she's not that type of person. She took to Instagram to and apologized though sarcastically, for "embracing natural women" in her posts and suggested her haters leave her page as she tries to stay positive.
"And I'm Sorry that judging and criticizing and mean and cruel and hurtful to people that u do not know due to a situation u have no clue about and has nothing to do with you is who YOU ARE! Sad!"
Furthermore, she made it clear in another comment that she wasn't in any way "throwing shade at anyone" insisting she too was "team T.I and Tiny." She also said she had nothing to do with the couple and that she would appreciate all the hate to stop.
Please fill in your e-mail so we can share with you our top stories!