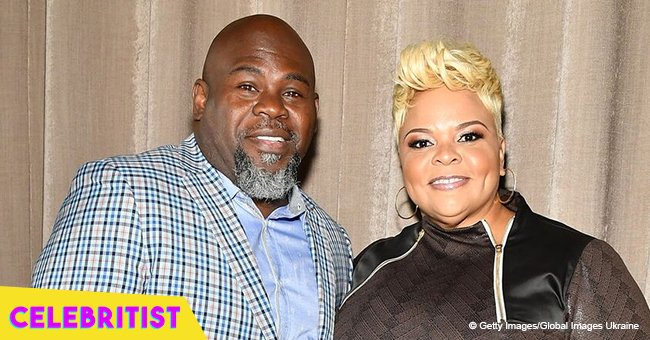 Tamela Mann stuns in tight black maxi dress at Essence festival after her impressive weight loss
Gospel singer Tamela Mann, best known for the gospel group Kirk Franklin and the Family, took to Instagram to share several photos during her performance at Essence Festival.
In the images, Tamela was portrayed onstage singing and waving her arms while wearing a long, black dress that made her look very good.
The fourth image of the slideshow portrayed Tamela's husband, David, wearing white pants, a multi-colored shirt, and a denim jacket posing for the camera. The rest of the pictures showed the couple doing some other activities during the festival.
For the caption, the couple set clear that they always have a good time at the Essence Festivals and finished by writing 'until next year NOLA.' As soon as they uploaded that slideshow, their fans and followers took to the comment section to share their thoughts.
One of them was Instagram user Sonya Snipes, who admitted that Tamela was very beautiful. Those photos were uploaded after the amazing body transformation and weight-loss journey Tamela has been into for a while.
According to Black Doctor, Tamela recognized that her weight was one of the major struggles in her life as she has always been good enough to be heard but not to be seen.
During an interview the 52-year-old singer had with Diabetes Forecast in 2014, she revealed that her secret to losing weight was to get her mind right and set the mind and body to fulfill the goal. Tamela added that she didn't have diabetes or hypertension, and it can be avoidable by taking care of her weight.
Tamela revealed that she lost more than 140 pounds as she used to be 30/32 and she was at 18/20 by the time of the interview. David is not as lucky as Tamela as he was diagnosed with Type 2 diabetes in 2007.
From that point on, the couple started working with the American Diabetes Association to help others live a healthier lifestyle.
There are many pieces of advice that Tamela share to those fans who want to shed some pounds. One of them is to cut back off the juice and sodas as they are filled with sugar.
Please fill in your e-mail so we can share with you our top stories!