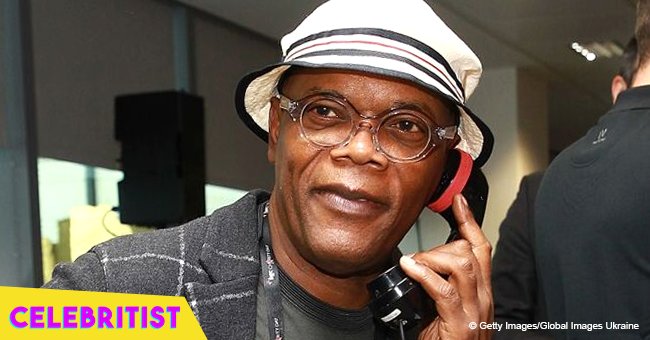 Samuel L. Jackson's wife of 38 yrs shares photo of their grown daughter Zoe who looks like dad
The beloved actor many have carried many different personas throughout his prolific film career, but his most important role is at home, as a husband and a father.
Samuel L. Jackson has been married to his wife, LaTanya Richardson, for an impressive 38 years already, which, let's face it, is a century in Hollywood time. The couple have just one child, a daughter named Zoe Jackson.
Zoe was born to the couple two years after they tied the knot, and turns 36 years old in 2018.
Recently, Richardson took to her Instagram account to share a lovely photo of her grown-up daughter striking a serious pose as she eyed the camera.
Richardson captioned the shot with just her daughter's full name, Zoe Dove Jackson, and a heart emoji.
In the image, the beautiful young woman shows definite hints of who her father is, with Samuel's same nose, cheek bones, and mouth.
Zoe wore a green, black, and white patterned dress, and a pair of flowery earrings and a matching gold bracelet. She had her arms crossed over her chest as she gave the camera the side-eye look.
Unlike her father, Zoe is not famous at all, and tends to shy away from the limelight, except on rare occasions where she has accompanied her father to Hollywood events.
But even though she keeps a low profile, her father often speaks of her, and even credited her and Richardson with saving him from his alcohol and drug addiction in the 1990's during his BET Awards speech.
He was accepting the Lifetime Achievement Award when he said: "They found me passed out on the floor after I left somebody's bachelor party and put my ass in rehab the next day and supported me and pushed me and give me a reason to get up and go and chase it day after day."
Zoe was just 8 years old at the time.
Richardson managed to convince her husband to enter rehab by pointing out that his career would get even better if he were clean and able to focus better on acting.
"I've always had my wife LaTanya, who's my harshest critic," he recalled. "She'd say: 'You're so intelligent that the first time you read something, you think you understand it intellectually and emotionally … But there's no blood in it. It wasn't until I got sober that I knew fully what she meant."
Please fill in your e-mail so we can share with you our top stories!