Meghan Markle rocks olive Ralph Lauren dress, holding Prince Harry's hand at Royal christening
Duchess Meghan Markle and her husband, Prince Harry, were present at the recent christening of Prince William and Duchess Kate Middleton's third son, Prince Louis.
Even though many members of the Royal family attended the important milestone, Meghan's outfit was one of the most impressive ones as she dazzled with her designer dress while fulfilling her aunt duties.
The Kensington Palace Twitter account shared a short video that portrayed Prince Charles and his wife, Camila Parker-Bowles, William, Kate, Louis, Princess Charlotte and Prince George, and Meghan and Harry all arriving at St. James' Palace for the ceremony.
All of them were wearing very elegant and classy outfits, including the olive-colored Ralph Lauren number that Meghan paired with a Stephen Jones hat and matching high heeled shoes.
Members of the Royal Family arrive at St James's Palace for the christening of Prince Louis. pic.twitter.com/3pDk4D898C

— The Duke and Duchess of Cambridge (@KensingtonRoyal) July 9, 2018
As Celebritist previously reported, Meghan's hair was swept back into an elegant bun, and she carried a grey clutch bag with her.
One of the most romantic aspects of the video was that Harry and Meghan walked into the Palace holding hands.
#MeghanMarkle: Olive green Ralph Laurent dress for Louis christening, another ugly dress and horrible colour. Consistently very negative colour choices by this Duchess of Sussex.

— Andronicus (@Andronicus50) July 9, 2018
What makes it a remarkable aspect is due to the fact that none of the other couples were showing any public displays of affection. Even though it is not banned, members of the Royalty tend not to show any PDA.
Harry and Meghan have been completely different from the very first time they announced their engagement last year, 'breaking' the tradition of keeping all their love for when the cameras are not on.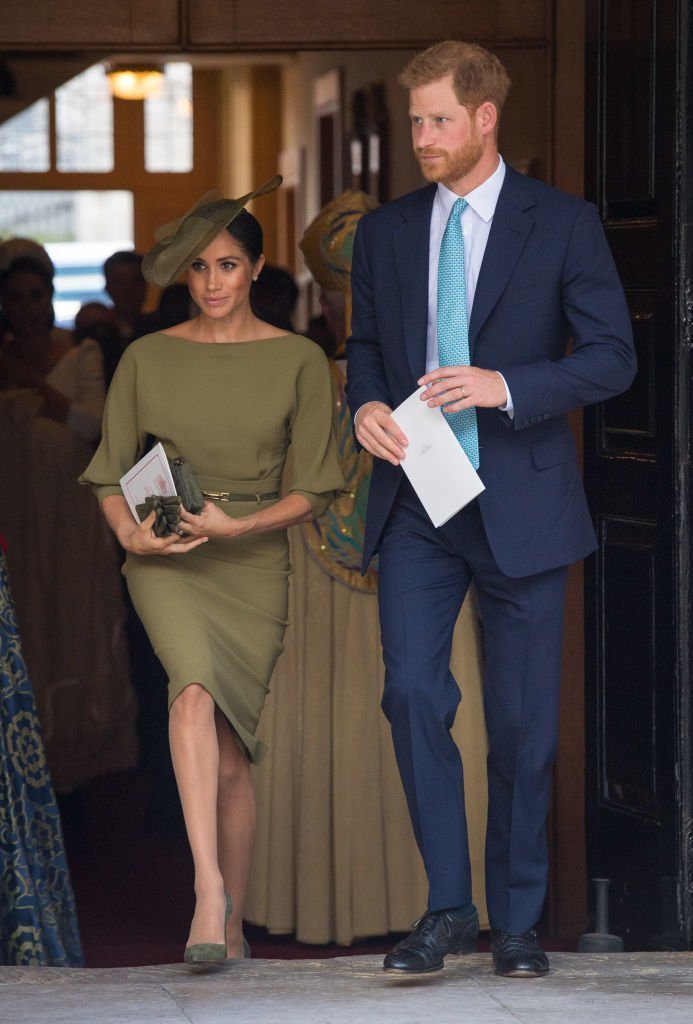 Another thing that shocked many people was that neither Harry nor Meghan were named as Louis' godparents. However, as every good aunt and uncle would do, they were present at the ceremony to show their support anyway.
William and Kate chose several of their friends, including Lucy Middleton, Hannah Carter, and Lady Laura Meade, who were all bestowed with the privilege of being Louis' godparents.
Lucy is Kate's cousin, while Hannah is a friend from their school days. Lady Laure Meade attended Eton College with Prince William.
Celebritist added that eleven-week-old Louis was born on April 23. He was baptized by the Archbishop of Canterbury, the Most Reverend Justin Welby.
While christening Louis was a very important milestone in the family, several members of the Royalty were not present, including Queen Elizabeth, who was traveling back from Norfolk and has to attend RAF celebrations.
Prince Philip, Elizabeth's husband, was not present either as he retired from active duty last year and underwent a hip surgery back in April.
Kate turned heads in a McQueen outfit and a Jane Taylor hat, two of her favorite designers. Her sister, Pippa Middleton, was also in attendance.