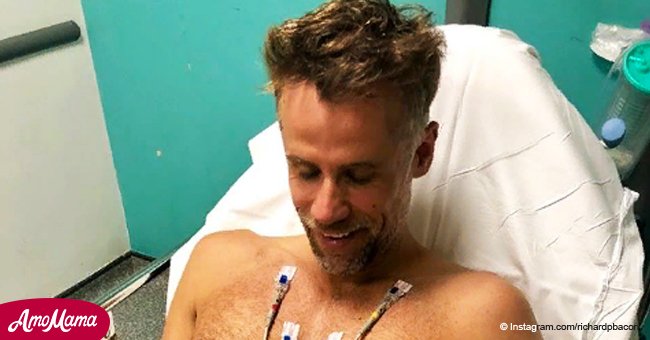 The Sun: Richard Bacon quit TV show to move back to Britain
Besides being on the path to recovery after rigorous medical treatment, Richard Bacon wanted his kids to spend more time with family and relatives back home.
Actor and TV Host Richard Bacon has been in a medically induced coma for the past one week as reported by The Sun.
Bacon was suspected to have pneumonia for which he was rushed to the hospital immediately. He was then flown to the UK, before being put in a medically induced coma.
While in the coma, he also underwent a tracheotomy as he had trouble breathing. He woke up from the coma on Friday, July 13, 2018, as per his mother Christine Bacon's Twitter update, and has been on the path to recovery. He was in a coma for 6 days.
Read more about Richard Bacon on our Twitter account @amomama_usa.
It has now been revealed that just before being admitted to the hospital, Bacon had quit his job as a talk show host on Fox. The TV star had been in talks with multiple productions in the UK, for jobs in the TV and radio industry.
Bacon is married to Rebecca McFarlane and has two kids aged 6 and 4.
The TV personality wanted his children to spend more time with his grandparents. He had moved to the US only 3 years ago, but felt that his parents were isolated, and wished to spend more time with them.
With this in mind, he had quit his TV hosting gig just days before falling ill. The news comes as a big surprise to his fans, as there was no announcement made about his decision.
Four days after waking up, Bacon thanked the Lewisham hospital, where he was admitted, for the excellent care they took of him, and of the decision to put him in a medically induced coma, which was life-saving.
He was grateful that he was able to recover as he did. He has also revealed that his infection is still unidentified.
Please fill in your e-mail so we can share with you our top stories!