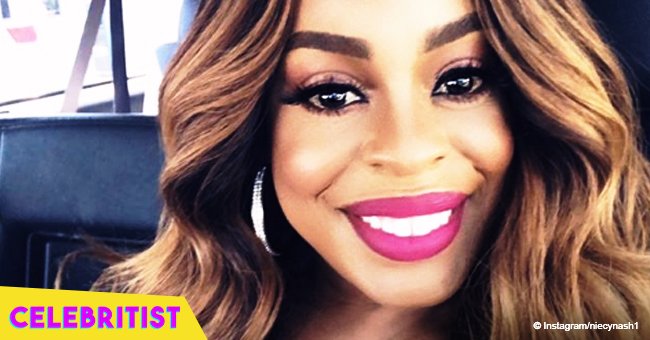 Niecy Nash shares photo of grown-up daughter debuting as an actress in popular TV series
Niecy Nash proudly reveals her daughter's acting debut playing a role very close to home.
Niecy Nash is proud of her daughter Dia Nash who'll be the newest face to join season 2 of 'Claws' portraying her character Desna Simms' teen version.
The 48-year-old television star took to Instagram last weekend to announce her daughter's acting debut by sharing a photo of the young looker in character and revealing how she came about snagging the role.
"Look who's playing Teen Desna. Go, Dia!!! They were seeing girls to play Desna and I told Dia she should go in for it. 'Let me help you with the audition,' I said. Her reply? 'I'm good. I will go over it with my acting coach'. Me: 'My baby is growing up.' She booked it on her own."
Niecy also posted another photo where she's face to face with her daughter on the set with the words "She got it from her mama" written across. She cheered Dia on in her caption, clearly proud of her achievement.
"Come on little Desna!!! That's my baby @thebalenciagababy_ TONIGHT @clawstnt"
According to reports, Dia's entry into the TNT show didn't come with any special privileges. In fact, Niecy told the directors and producers of the show not to go easy on her. She auditioned like everyone else and fortunately nailed it. It was also a bonus that Dia looked a lot like her mother and shared her personality making her perfect for the role.
Meanwhile, Niecy is honored to be part of the show which features strong women characters. She explained,
"The very first script I read was so delicious, and when I finished it I could not wait to find out what happened next. These are women who are cool and flawed and unapologetic and fun and sexy. And they have sex for their own pleasure. It's a role that's typically reserved for men."
Niecy has many reasons to celebrate. 'Claws' has just been renewed for a third season and she just received her star on the Hollywood Walk of Fame this month. Having begun her career as the host of Clean House from 2003 to 2010, she sure has come a long way.
Please fill in your e-mail so we can share with you our top stories!