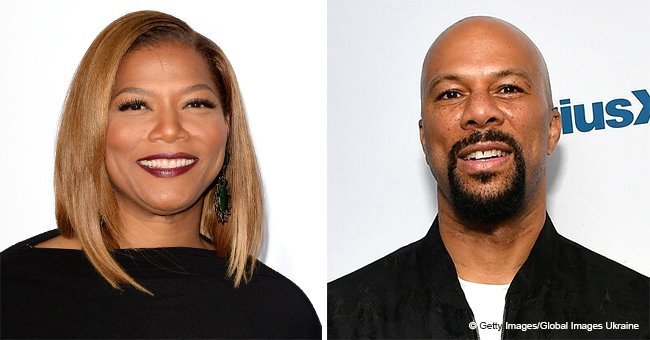 Queen Latifah stuns in snake-print outfit in recent picture with rapper Common
The iconic actress showcased her fashion sense as she posed for a picture with rapper Common to promote their upcoming show.
After taking this year's Essence Festival by storm, Queen Latifah posted a photo with her fellow artist Common, whom she is set to appear on stage with this Friday. In the photo, Queen and Common casually smile for the photo beside each other, while the rapper placed his arm over her shoulder.
Just recently, Queen Latifah joined dozens of other iconic females in the entertainment industry during the Essence Festival. The festival aims to showcase and celebrate the greatness that black women around the world can offer.
She headlined the festival's main stage last Saturday and was joined by other hip-hop legends like MC Lyte, Yo-Yo, Salt-N-Pepa, Missy Elliott, Monie Love, Remy Ma, and Brandy.
During her set, she entertained the delighted audience with her vocal talent, doing her own rendition of Phoebe Snow's "Poetry Man", which she dedicated to her mother who passed away earlier this year due to a heart condition
Aside from being one of the headliners of the much-awaited show, Queen Latifah also met up with Essence Ventures CEO Richelieu Dennis at the Ernest N. Morial Convention Center in New Orleans, Louisiana, to speak about partnering her company, Flavor Unit Entertainment, with the Essence Creators and Makers Fund.
According to Deadline, they are the first company to show interest in partnering up with the new initiative.
The said fund currently has a $20 million endowment from Essence Ventures, the parent company of Essence Magazine. Those funds will be used to support the development and production of content made by aspiring artists of color.
Queen Latifah was excited to share the news, saying how important Essence has been in her quest to portray authentic stories of color through her company, which was also co-founded by Shakim Compere.
""Essence has always celebrated our culture and was there when it was hard to find stories and images for people who look like me. Shakim and I have built our business on creating content, whether it be film, television or music, for those very same people. We have realized that although they come from our perspective, these narratives are universal, so for us to join forces is thrilling."
Their company Flavor Unit Entertainment is responsible for producing films like "Beauty Shop", "The Perfect Holiday", "Just Wright", and "Bessie". They are also in-charge of HBO's "Life Support", which Queen recently picked up a Golden Globe award for.
Please fill in your e-mail so we can share with you our top stories!