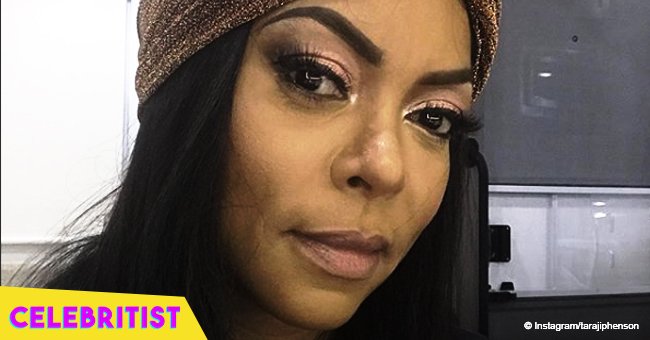 Taraji P. Henson is all smiles posing next to shirtless fiance
The American actress, singer, and author recently got engaged to her boyfriend, and decided to spend the national holiday with him in style.
Taraji P. Henson, best known for her role as Cookie Lyon in Empire, took to Instagram to share a photo of herself enjoying Independence Day next to her fiancé, Kelvin Hayden.
In the image, Henson is portrayed playfully sticking her tongue out as she wore a one-piece orange swimsuit covered by a fuchsia, white, and black jacket. Her husband-to-be was hugging her from her back with no shirt on, and also sticking out his tongue.
The couple looked very happy as they enjoyied the day relaxing on board a boat. In the caption, she shared that Hayden is not only her fiance, but also her best friend.
As soon as Henson uploaded the picture, her fans and followers took to the comments section to share their thoughts. One of them was the Instagram user MoBettaNique, who wrote that black love is beautiful.
Henson was not the only one who uploaded a photo of their outing on social media as Hayden did the same on his Instagram account.
In his picture, Hayden was sitting on a lounger on the boat with no shirt on and wearing reflective sunglasses while the actress stood next to him looking serious as she looked at the camera.
Those images were posted a couple of days after Henson shared a video on her Instagram account showing the workout routine she and Hayden do together.
Throughout the video, the duo is seen doing different types of exercises.The couple performed lunges while carrying weights and took turns pulling at ropes with high-speed footwork.
The couple also did platform and floor exercises and showed no signs of slowing down. In the caption, Henson wrote "couples that play together, stay together."
The couple have been together for a while now, having first been linked to one another back in 2015. But aside from unconfirmed rumors, the couple decided to keep their relatonship secret.
They only recently opened up about their relationship publicly, but still prefer to keep their private lives private wherever possible.
Henson confirmed her relationship with the 34-year-old man during an episode of Essence's Yes, Girl! podcast in December 2017.
Henson pointed out that even though she wasn't the kind of person who shares her personal life with the media, it was important for her to let her fans know that she was very happy as she and Hayden had been together for two years at that point.
Surprisingly, the couple decided to share photos from the night they got engaged, with Henson taking to Instagram with a photo of her ring and the cake the restaurant gave them to celebrate. Hayden proposed to her on Mother's Day.
Hayden's proposal was a complete surprise to the unsuspecting actress, who opened up about the event to Entertainment Tonight.
"I think he was trying to wait, and he couldn't wait, 'cause he had the ring, and I guess it was burning a hole in his pocket," Henson shared. "I'm in Atlanta right now, filming What Men Want, and I told him, I said, 'I'm gonna come home for Mother's Day,' and he said, 'Come home!' And I noticed the look in his eyes, but I didn't put it together."
The 47-year-old is a mother to 24-year-old son Marcel with her high-school sweetheart William Lamar Johnson, who was tragically murdered in 2003.
Please fill in your e-mail so we can share with you our top stories!