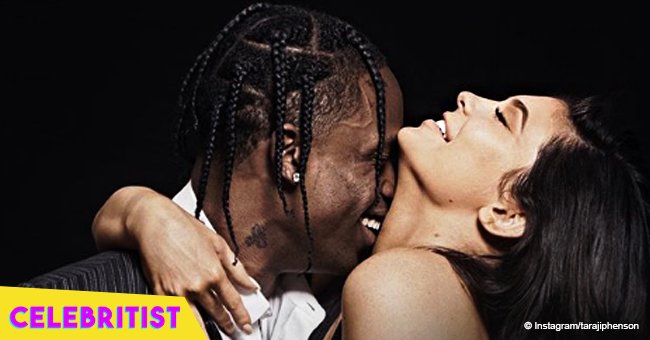 Kylie Jenner met Travis Scott just 41 weeks before daughter Stormi was born
Speaking in their first joint interview since they met, the couple may have let slip just how little time they knew one another when the makeup mogul fell pregnant.
Kylie Jenner and Travis Scott welcomed their daughter, Stormi Webster, on February 1 after a completely secret pregnancy that the reality star decided not to share with her millions of followers.
But in a recent interview with GQ, the couple spoke about how they first met and where, and people are starting to put two and two together.
According to Jenner, she and Scott met for the first time at Coachella in 2017. That would have been mid-April, just 41 weeks before February 1, 2018.
While the lack of a pregnancy and due date confirmation means that this is all speculation, it seems Jenner may have fallen pregnant within a week or two of meeting her baby daddy.
And after their first "date" at Coachella, Jenner picked up her life in a spontaneous move that most would never dream of.
"Coachella was one of the stops on his tour," she explained. "So he said, 'I'm going back on tour—what do we want to do about this?' Because we obviously liked each other. And I was like, 'I guess I'm going with you.' I really jumped on the bus. And then we rode off into the sunset. I did the whole tour with him."
Towards the end of the year, speculation was rife that Jenner was pregnant, and fans eagerly awaited her confirmation of the happy news, but were left hanging.
Instead, in February, the day after Stormi was born, Jenner took to her social media accounts to share that she had given birth, and to explain that she had wanted to undergo her pregnancy journey in private for both her sake and the baby's.
The interview with GQ is their first official interview and photoshoot as a couple. During it, they shared how they make their relationship work, particularly with Jenner being so much in the spotlight.
"I don't think he's really cool with it, but he deals with it, because we love each other and we have a family. For sure, I know he doesn't like the attention. That's why we just go the extra mile to keep our relationship super private, or like, if he has events or something, I won't come. Because I want him to do his own thing," she explained, adding, "I want him to be him. I don't want it to be Kylie and Trav. If people don't ever see us together, that's okay with me, because we just do our thing."
Please fill in your e-mail so we can share with you our top stories!