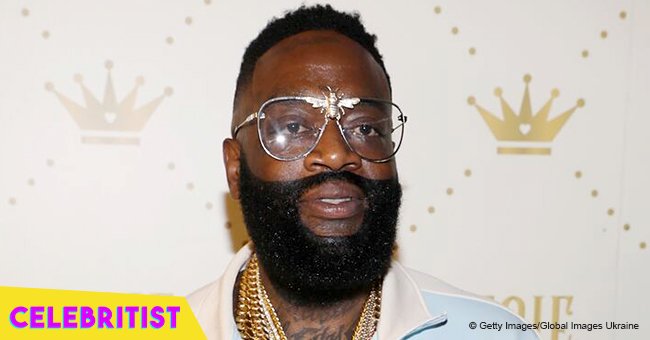 Rick Ross' baby mama slams him for allegedly neglecting their 12-year-old son
Just when they've settled their nasty battle concerning their son's child support, Rick Ross' baby mama Tia Kemp is bringing up new issues against the singer. In an Instagram Live chat, she accused him of being a negligible father and a misdirected 42-year-old who's acting like he's 27.
The war isn't over between Rick Ross and his baby mama Tia Kemp who just launched another round of complaints against the father of her 12-year-old son. In her latest Instagram Live tirade, she accused Ross of being an absentee parent and even slammed the Maybach Music Group leader for his immodest song.
Kemp first called out the singer for not communicating with their son more and challenged him to "call his son" more than once.
"Y'all do me a favor and go to buddy page and drop that money bag and hashtag pay them people, granny gang and call your son. That's what I need y'all to do."
Kemp also felt sorry for Ross' whose new single 'Green Gucci Suit' seems to be taking him to the wrong direction considering his recent brush with death. She says he's acting like he's 27 and not 42.
"Since he wanted some attention and trying to 'Gucci Green Suit' and all this other sh*t sold and all that like he's still 27, n*gga you about to be 44 in January. I feel sorry for you, I'm going to be honest. I feel sorry for buddy because he ain't got nobody on his chin telling him the right sh*t. Give it up, n*gga. Get off the gas."
In response to Kemp's attack, Rick started his own IG session insisting Kemp get involved in church life so she can have a greater sense of purpose and "move past him." However, he didn't reply to claims he was a negligible father saying he's already spoken about the issue before.
Kemp and Ross had just settled their child support case back in June. After the former took the latter back to court requesting to increase his monthly payments due to his massive success, they finally ended their nasty battle and came to an agreement during a mediation. The new amount was not disclosed but Ross reportedly agreed to pay the money directly to Kemp's bank account. All other outstanding issues were also supposedly resolved after that mediation.
Please fill in your e-mail so we can share with you our top stories!