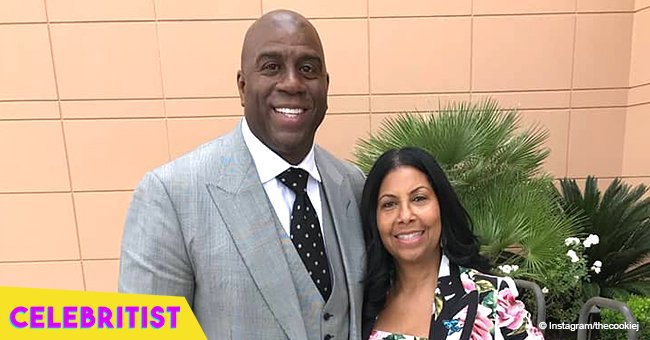 Magic and Cookie Johnson are all smiles posing next to his oldest son Andre and his wife

The Johnsons are a picture of a happy family in a snap taken during a fund-raising event for autism.
In a photo shared on the Instagram account of Magic Johnson's eldest son, Andre, the family is looking dapper as they beam at the camera.
"Had a great time celebrating with @hollyrpreete and @rodneypeete9 for the annual #designcare20 to benefit autism," 37-year-old Andre captioned the photo, which shows him posing side by side with his father, step-mother Cookie and step-sister Elisa.
His admiring followers quickly showered the family with praises.
"Beautiful family!" commented @gpriestly.
"Great pics! Have a great weekend," wrote @arthurmurrayusa.
"Looks dapper as always cousin. Y'all too cute," @hoodychews chimed in.
Magic Johnson, a former NBA star athlete, fathered Andre in 1981. He shares Andre with former partner Melissa Mitchell.
The former athlete married Earlitha "Cookie" Kelly in 1991. They have one son, reality star Earvin III, and an adopted daughter, Elisa.
The Johnsons have been a subject of headlines for their family issues.
Magic has been living with HIV since 1991. His diagnosis came just 45 days after he married Cookie.
The couple opened up about their struggles in TV initerview, as reported by New Now Next.
"It scared me to death. I mean, I fell to my knees. We both fell on our knees and we strated crying," Cookie was quoted as saying.
She chronicled their struggles in her memoir, Believing in Magic: My Story of Love, Overcoming Adversity, and Keeping the Faith.
The couple also talked about how she accepted their son, Earvin III, after he came out as gay.
"I had to come to realize that this is who he is, and he's going to be happy," Magic said. "And so why am I judging him? I'm his father, so I got to be the first one to say, 'It's OK and I love you. Now, how can I help you?"
Cookie, for her part, said: "You gotta love your child. Love wins."
Please fill in your e-mail so we can share with you our top stories!