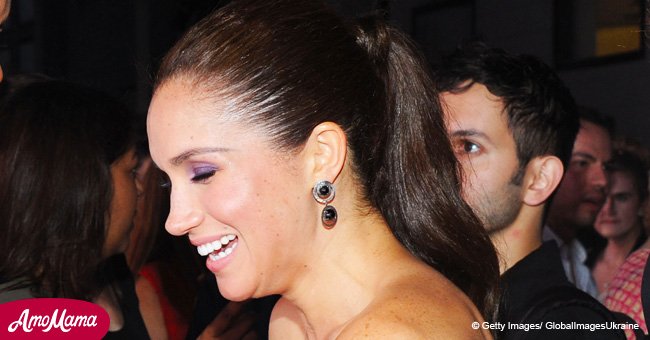 Meghan Markle shocked fans with unusual form of charity before engagement with Prince Harry

A few years ago, everyone was doing the famous Ice Bucket Challenge for charity and the current Duchess of Sussex also did her part.
In 2014, when the challenge was all the rage, Meghan took to her Instagram account, which she deleted after becoming engaged to Prince Harry, to share the moment with her fans and followers.
But, even though Meghan deleted her Instagram, her Ice Bucket Challenge video lives on thanks to Youtube and all those people who keep the moment alive on the Internet.
The challenge was originally created to support life-saving research to cure ALS; Whenever someone would get doused by liters of icy water, they would then nominate three other people to do the same.
Please consider following us on our Twitter account @amomama_usa to learn more.
In the video, the now 36-year-old can be seen wearing a denim shirt and a pair of shorts. She has a nervous look on her face, which quickly turns into a yelp as the cold water is poured over her.
At the time, Meghan, who was still an actress, had been nominated by professional golfer Rory McIlroy, who also nominated former U.S. President George W. Bush and soccer player Wayne Rooney during his challenge with Tiger Woods.
During an interview with Focus, the Duchess of Sussex explained how the challenged came to be. According to her, she initially believed that she wouldn't be able to do the challenge because she was traveling and in New York.
But, curiously, McIlroy was also in town, and the athlete agreed to help her with the challenge, which then took place on the roof of Meghan's best friend, whose identity is yet to be revealed.
After completing the Ice Bucket Challenge, Meghan nominated her good friend Serena Williams, who she supported last Saturday, from the Royal box at Wimbledon, alongside Kate Middleton during the Ladies' Singles Final.
Please fill in your e-mail so we can share with you our top stories!