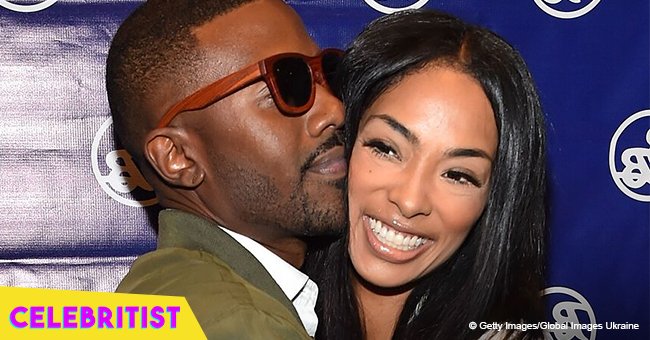 Princess Love shares photo of baby daughter with a full head of hair on her 2-month birthday
The Love & Hip Hop: Hollywood star's baby daughter just hit the two-month mark, and she decided to share a sweet photo of the little girl to her social media account.
Princess Love and Ray J had a rocky relationship with plenty of ups and downs before they eventually tied the knot in 2016. Since then, they seem to be doing much better, and even welcomed a daughter, Melody Love Norwood.
Melody was born in May 2018, and the couple have been completely enamored with their baby girl since their arrival. Her mother has already shared plenty of photos of the little one.
An image shared on June 18 shows the sweet baby with a full head of hair, looking grumpy in one photo and then relaxed in the second.
"My angel is 2 months old today," Love captioned the sweet photos. She closed off comments to the post, but still raked in over 125,000 likes.
Melody was wearing a short sleeve white onesie, with cute purple butterflies on it. She appeared to be lying on her mother's chest, either just before or just after breastfeeding.
Norwood has shared photos of Melody as well, including one where he was bottle feeding the baby girl, who seemed to be gazing up at her daddy's face in awe.
He certainly seems to have taken to fatherhood with aplomb, sharing in the caption that he was aiming for Daddy Of The Year award. In just 4 days, the beautiful post received over 400,000 likes, indicating he might just win.
In a recent video clip shared by Love, she and Melody have a glasses and bear ears filter, giving them both a big-eyed look and a big red bow across their heads.
In the clip, Ray leans over the back of the couch to kiss his daughter on the cheek, only for her to sneak a side-eye glance at him.
But when Ray looked up at the camera, the bears ears, bow, and glasses transferred onto him, a picture he didn't seem all that pleased to see.
Another image showed the busy dad holding onto a sleeping Melody while he took what was presumably an important phone call. The adorable infant was wearing a pink onesie, and wrapped in a pink and white striped blanket as she snoozed.
In the caption, he joked that his daughter was already helping him run his company.
Love first debuted her daughter on the social media site on June 1, with a sweet photo of herself and Ray holding their baby girl between them.
"Introducing Melody Love Norwood @okmagazine," Love captioned that shot.
Please fill in your e-mail so we can share with you our top stories!