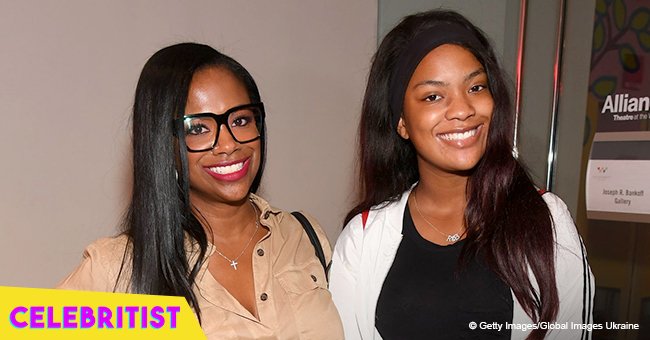 Kandi Burruss' daughter gets stunning makeover ahead of her 16th birthday
Riley Burruss recently got a makeover that showcased her budding beauty shy of 16. The future lawyer's mother, Kandi Burruss, just lauded her last month for her amazing 50-pound weight loss in response to internet attacks about her size.
Kandi Burruss' daughter, Riley Burruss, who grew up in the public eye in her mom's show 'Real Housewives of Atlanta' is now about to turn 16 and becoming more stunning as recent posts reveal. She underwent a makeover for a television appearance with her mother, and the result is arresting.
The future lawyer had on flawless makeup that highlighted her naturally pleasing features with her hair styled in big waves. Having recently shed off more than 50 pounds, Riley is set to steal hearts with her presence.
For her appearance on 'Sister Circle' with her mother, she donned a white top with a beige mini skirt and a stylish coat. She stood tall and chic beside her mother who wore a tight-fitting olive green collared dress with a low neckline and cinched at the waist with a wide belt. The mother and daughter posed for a pic after their stint on the show and their resemblance is uncanny.
Just last month, Kandi shared her joy over her daughter's amazing weight loss after eight months of working out and with a lot of discipline. In an Instagram post, the 42-year-old paid tribute to her daughter by taking pride in her progress.
"I'm so proud of my baby @rileyburruss! Last year (around September I think) Riley decided to get serious about being fit. With the help of her trainer @iamthekingoffitness she's lost 52lbs!!!! & she did it the right way by working out 5 days a week & watching her calorie intake."
Kandi also credited Riley's friends for working out with her and helping her persevere. She revealed that just like Riley, her friends lost about 40-50 pounds.
The reality star disclosed that Riley was a victim of online trolls bashing her for her weight having grown up in the limelight. She added,
"Luckily Riley has tough skin & doesn't let it bother her but as her mom it used to piss me off when trolls would make negative comments about her size. Nobody knew she was over 200 lbs because my daughter is tall. She's 5'9. & to be honest she wouldn't tell anybody how much she weighed but now she proudly shares it because she wants to motivate other people who are going thru the Weightloss struggle."
Meanwhile, the teen who's already proud of what she achieved declared the "journey is not over" in her own post bearing the same photo her mother used.
"I have larger goals I am trying to reach and I hope everybody follows me throughout my journey. I've been seeing peoples comments about them struggling with weight loss,"
"I know the struggle & its real. But it can be done. Roll with me and lets do it together! & i just want to thank every one for your supportive comments!"
Please fill in your e-mail so we can share with you our top stories!