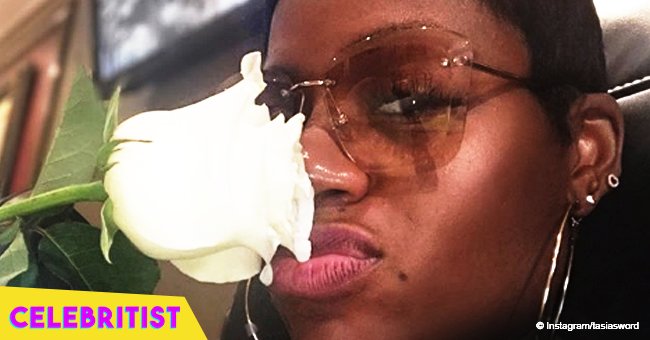 Fantasia flaunts curvy body in tight black & white dress on 4th marriage anniversary in video
Fantasia Barrino is celebrating her 4th wedding anniversary, and she's still making an effort to look good for her handsome husband. The singer, who recently moved fans to tears at the Essence Festival, made a special song for her man.
Fantasia and her husband, businessman Kendall Taylor have been together since 2013, but on July 18 they celebrated their 4th wedding anniversary, and they went all out to commemorate the occasion.
The 34-years-old singer made a special song for Kendall titled "You're The One," and she edited several clips of them together with the track in the background to post it on her Instagram account with the message:
"My Gift to my King for our 4th Anniversary which is TODAY!!!!! He always says I never sing for him so here ya Go Daddy ( I'll post the whole song soon on iTunes?) it's just my lil Gift to You."
In the heartfelt track, Fantasia talks about how the couple met and how she knew Kendall was the man of her life. She also included a snippet from a voice message the man sent her where he talks about them being together for four years, as she added in her caption:
"I snuck your voice in there from something you sent me (just like the last album... Sorry King!) But Baby it made the song even more special to me King!"
In return, Kendall decided to surprise Fantasia with a trip, even though he didn't share their destination with her. Fantasia posted a clip explaining to fans that her husband is treating her to a special trip, and when she asked Kendall "where are we going babe?" he simply said "none of your business."
Barrino looked incredible wearing an off the shoulder, body-hugging black and white dress with black lace details at the bottom that enhanced her curves to perfection. She completed the look with black and white strappy heels, sunglasses and giant hoop earrings.
"Trip Time with my King he is taking me on a Road Trip and I'm trying to keep his eyes on me the whole entire time," she wrote in her caption.
Fantasia's and Kendall's road trip comes just a few weeks after the singer brought the audience at Essence Festival to tears after her brother Xavier, who suffered a car accident last year and was left paralyzed for months, took the stage with her.
The young man is now moving his arms and learning how to walk again, and he has made strides on his recovery process with the help of all his family, but mainly, with the support of Fantasia.
Congratulations to Fantasia and Kendall on their anniversary.
Please fill in your e-mail so we can share with you our top stories!