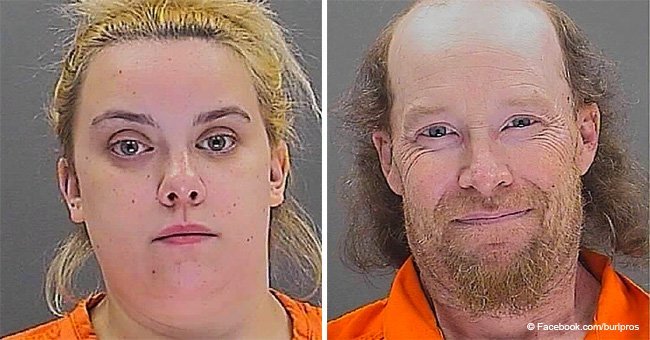 4-month-old dies after parents put him in 'time out'
On February 14, a New Jersey couple left their 4-month-old child covered in a comforter as a 'time out' punishment. When they got back to the motel, the child was unresponsive.
The following month the baby boy died after life support was removed according to a Facebook post by the Burlington County Prosecutor's Office. The child's parents have been charged.
On Valentine's Day, William Herring, 42, and Brianna Brochhausen, 22, were living at the Hilltop Motel in the 100 block of Route 68 in Springfield Township with their 4-month-old boy, Hunter.
The parents became frustrated because their son would not stop crying on that night. They decided to place him in a 'time out' by positioning him on his stomach on the bed
A comforter was pulled over him to cover his head and entire body. The parents then went outside to smoke cigarettes and returned to the room around 10 minutes later.
For more on this story go to our Twitter account @amomama_usa. When they got back inside, they discovered that Hunter was not breathing and was unresponsive.
Paramedics and Springfield Township police officers were called to the motel and the little boy was taken to Virtua Hospital in Mount Holly. He was immediately transferred to the Pediatric Intensive Care Unit at Children's Hospital of Philadelphia.
"The thoughtless actions of these individuals ended up costing a defenseless 4-month-old infant his life. I commend the detectives of our Homicide South Unit and Criminal Investigation Office for their commitment and dedication to finding justice for Baby Hunter."
New Jersey State Police Superintendent Colonel Callahan, Facebook, July 17, 2018
Hunter had minimal brain activity and was breathing with the assistance of a respirator. He later died on March 3 after life support was removed.
On Tuesday, Burlington County Prosecutor Scott Coffina and New Jersey State Police Colonel Patrick J. Callahan announced that the parents had been charged with murder in connection with Hunter's death.
Herring and Brochhausen were taken into custody on Monday by the New Jersey State Police and the father's mug shot showed him smiling as if he had no remorse. Their first appearance was held on Tuesday in Superior Court in Mount Holly.
A detention hearing would be held later this week. Philadelphia Deputy Chief Medical Examiner Albert Chu declared the cause of Hunter's death to be "complications of suffocation."
The manner of death was deemed to be a homicide. Herring and Brochhausen are being prosecuted by Assistant Prosecutor Michael Angermeier.
The case was investigated by the New Jersey State Police Homicide South Unit, and Troop "C" Criminal Investigation Office. Both suspects could have avoided the tragedy if they had used the assistance of Parents Anonymous of New Jersey which offers parent support groups.
It also provides a 24-hour Stressline/Family Helpline to listen to the concerns of parents and provide referral and crisis intervention information. The support group can be reached at 1-800-THE-KIDS or www.pofnj.com.
New Jersey also has a Safe Haven Infant Protection Act which allows parents or their representatives to anonymously surrender a newborn baby. The baby can be given to any hospital emergency room, police station, fire station, ambulance, first aid or rescue squad that is staffed 24 hours a day, seven days a week.
Please fill in your e-mail so we can share with you our top stories!