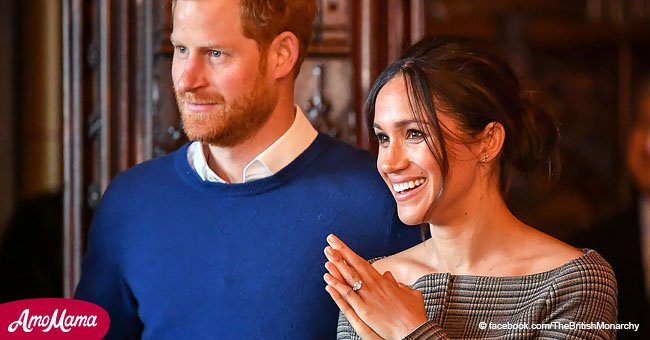 Meghan Markle criticized for keeping close to Harry at public events
Royal fans seemed to be miffed after finding the Duchess of Sussex 'clinging' to her husband, Prince Harry, during Royal events.
There was an uproar after Kensington Palace took to Instagram to share official portraits from Prince Louis' christening on July 16, 2018.
Any newlywed couple generally does not mind the PDA. Many feel it is natural for a married couple to behave that way when they experience the first rush of love.
However, Megan Markle is having a tough time. Her public displays affection have not gone down well.
Royal fans are finding the PDA pretentious and are openly criticizing Megan for seeming to be extremely 'clingy' to her husband, Prince Harry.
This criticism has become widespread especially after the tabloids and newspapers published pictures of the duo together at various Royal outings.
The backslash started when the Royal Family released official christening portraits of Prince Louis earlier this month via Instagram. Critics lost no time in slamming the Duchess of Sussex for holding Harry's arm in one of the royal family photographs.
A user by the name f.phhh passed a remark on the image released by Kensington Palace's official account saying, 'I really don't understand why Meghan can't let go of Harry one single minute.'
The commenter added that she looked like a teenager who ends up doing exactly the opposite of what is expected.
Another user, jamiedean, questioned the reason behind Meghan being 'so clingy,' adding that in almost every image it appeared as if she was pawing at her husband while poor Prince Harry wanted to run away.
Even during the Royal Air Force Centenary celebration on July 10, when Harry and Meghan attended the event, a few Royal fans had complaints against the couple's constant PDA.
A user, SewuBem, asked if it was mandatory for her to hold her husband's hand always? The user said that people were aware the Meghan was not really shy, and she knew what was to happen, so she needed to stop being clingy and to stop the 'acting.'
Remarkably, the fans had also commented on how it was Meghan who insisted on holding Harry's arms while being photographed way back in November 2017 when they got officially engaged.
A Twitter user, Ursol, mentioned last year that while they were happy for the couple, Meghan seemed to be extra clingy.
Please fill in your e-mail so we can share with you our top stories!