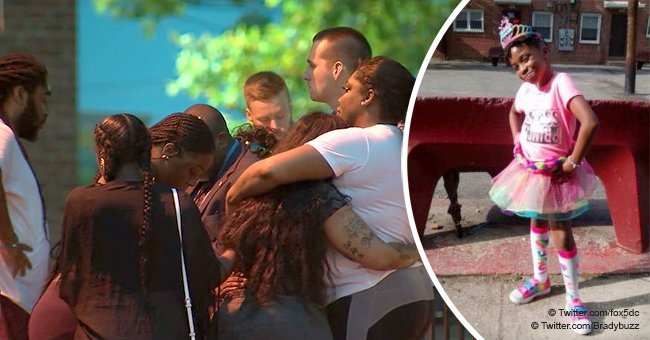 Last words of 10-year-old girl who died in her mother's arms during DC shooting
The little girl had been enjoying her summer holiday, and was returning home after she had gone out to buy herself and ice cream.
10-year-old Mikayah Wilson was murdered on July 16 in Northeast D.C. when four masked men drove onto her street and started shooting haphazardly into the crowd of people.
Mikayah had just arrived back home after buying an ice cream, when the four gunmen in an Infiniti sedan drove down the street and started shooting. She was still standing on the steps of her own home when she was hit by a bullet.
As reported by NBC Washington, the shooting took place around 8pm, in the 300 block of 53rd Street NE. The gunmen fired off in all directions, and aside from Mikayah, also hit four other people, including Mikayah's 18-year-old sister.
They discharged over 60 bullets in total, and then climbed back into the car and sped away.
Donetta Wilson, the little girl's mother, shared that she ran out to hold her daughter, who actually died in her arms
"When she actually passed and took her last breath she was laying right there in front of her doorway," the distraught mother said. "I held my baby. The whole time she just kept saying, 'Mommy, calm down. It's burning.'"
Mikayah had just finished the fourth grade, and according to her grandmother, Pandora Wilson, was a lively, happy little girl, who was the youngest of four siblings and absolutely loved her family.
"Makiyah, she was special," Pandora said. "She loved football; she loved all kinds of sports. It's so hard to put it in words because it don't feel real, you know? It's so senseless."
At that time of the night, the courtyard where the shooting took place was full of children and families.
At this point, the police have no suspects, but are frantically searching for the gunmen who so wrecklessly endangered countless innocent lives.
While there are no human suspects, the Infiniti sedan has been located in Maryland in Oxon Hill. Police did not share the vehicle's exact location.
Please fill in your e-mail so we can share with you our top stories!