Tiny Harris stuns in matching bathing suit with Baby Heiress amid T.I.'s cheating scandal
Tameka "Tiny" Harris recently celebrated her 43rd birthday, but before going on a girls' trip, she made sure to spend some quality time with her adorable two-year-old daughter. Her husband, T.I, came forward with an expensive gift, weeks after another cheating scandal surfaced in their lives.
Tiny Harris might be going through some difficult times with her husband, but she never lets the circumstances put her down and is always ready to party and have a good time. The Xscape singer just came back to Atlanta after spending a weekend in Miami in the company of some friends to celebrate her birthday.
But before going away, she made sure to have a good time with her adorable youngest daughter, Heiress Princess, who has been stealing hearts on Tiny's social media since she was born. The tot loves to hang around with her mama, and Tiny even bought matching bathing suits for them.
On July 4, while many people were partying and making barbecues, Tiny was having a relaxing day by the pool with little Heiress. She shared a pic on Instagram rocking the same light blue camo-printed swimsuit as her daughter, which they rocked with matching blue headpieces.
Their adorable pic came just days before Tiny admitted on Kandi Burrus' show, "Kandi Koated Nights," that she hired a private detective to follow her husband around and check if he was cheating on her.
While Harris didn't specify when she did this, is not a secret that the father of her kids, T.I, has cheated on several occasions. First with one of her friends, then with an Instagram model named Bernice Burgos, and more recently he was caught on video spanking Asia'h Epperson's butt on the backstage of his show.
At the end of 2016, Tiny filed for divorce after giving her husband several opportunities to right his wrongs, and when fans thought she was finally getting rid of their toxic relationship, the divorce proceedings came to a halt as they allegedly tried to fix their marriage.
Tiny admitted earlier this year that she and T.I were in a good place, but after the man's endeavors with Epperson, it seems like they're back on rocking ground these days.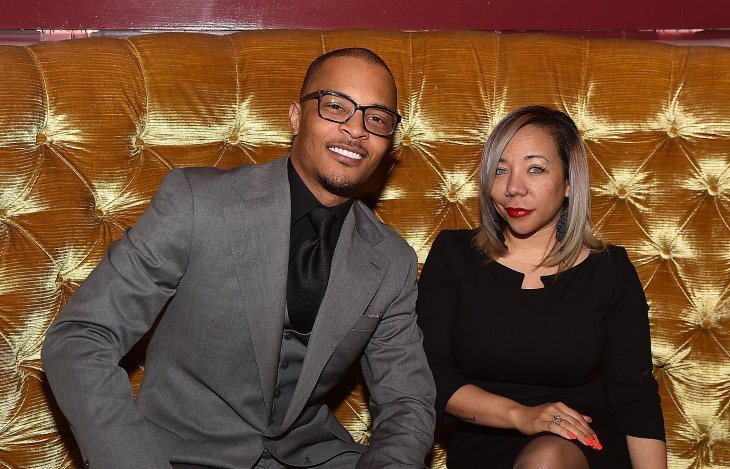 But T.I has proved that despite his mistakes, his love for Tiny and their family is unconditional, and on Harris' birthday, he surprised her with an expensive and luxurious gift.
The 37-years-old presented Tiny with a new customized Mercedes-Benz S550 valued at $225k, and he shared the moment his wife saw the car with his millions of followers on Instagram as he wrote:
"What's understood requires no explanation!!! I'm always here to show up and show out for mines. Regardless of WHATEVER!!! King ain't never missed a beat!!! Happy Gday Mrs. H."
While is not sure about the status of T.I and Tiny's relationship at the moment, is safe to assume they're not on bad terms despite living separately. This couple keeps on giving us whiplash, but we hope they can fix their problems soon for the sake of their kids.