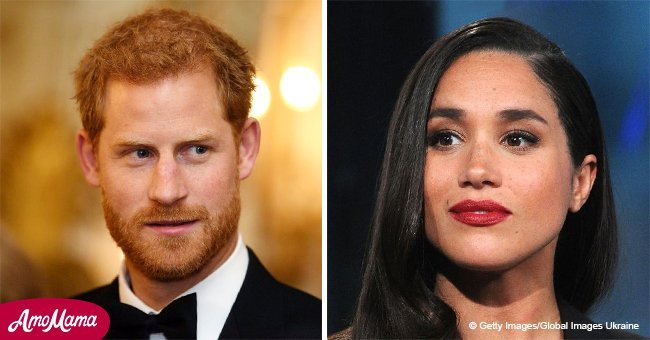 The reason why Prince Harry 'avoids' holding Meghan Markle's hand
Though Prince Harry and Meghan Markle's public display of affection has been in the news recently, he avoided holding hands at a recent event.
During the Young Leaders Reception at Buckingham Palace on June 276, 2018, there were efforts from the couple to show much less affection in public, reported People and Daily Mail.
People were quick to notice that when the Duchess of Sussex tried to reach for her husband's hand, the Duke appeared to move his hands away.
An important reason for the newlyweds' new lack of public affection is because it is not advisable for Royal couples to hold hands in front of the monarch.
Read more on our Twitter account @amomama_usa.
Queen Elizabeth and her husband, Prince Philip, do not show affection in public due to the "stoic values' of their generation, says Royal biographer Gyles Brandreth.
Harry and Meghan's public display of affection (PDA), on the other hand, is quite an unusual Royal behavior, though the official outings require a certain level of decorum.
Royal etiquette expert, Found and Director of Beaumont Etiquette, Myka Meier said that it was indeed rare to see Royal couples holding hands on official events.
Prince William and Duchess Kate, for example, hardly show any affection in public and during official engagements.
However, she said that Prince Charles and the Duchess of Cornwall hold hands often, which proved that it was a matter of preference for each couple and dependent on the nature of the event a Royal couple attends.
"A more serious engagement would warrant a more serious level of professionalism, which each royal is sure to follow."
Myka Meier, People, July 3, 2018.
Harry and Meghan have held hands, rubbed each other's backs, and linked arms in public since they made their first public appearance at the Invictus Games in September 2017.
The couple may now refrain from public displays of affection now that Meghan is a member of the Royal family. However, if they did choose to hold hands, it would only be a gesture that showed unity and celebration of their engagement period.
Harry could be avoided displaying his affection in public to allow Meghan to assert her own place as she learns the ways of the Royals. There is no protocol that states the couple cannot show affection at official events.
According to etiquette expert, William Hanson, the two may feel it important to appear more "professional" since their wedding. That could be another reason they do not show PDA anymore.
Holding each other's hands could be accepted in private situations and in social spheres. However, Harry and Meghan realize that they are on official business while out in public and it is not considered "professional behavior."
The expert believes that the Duke and the Duchess know that job and status come first now that they are married.
The couple's public displays of affection have generated interest among fans. The recent official photographs from Prince Louis' christening created a controversy of sorts.
A photo had Meghan's arm linked in Harry's and Stylist said that their display of affection 'broke royal protocol.'
Speaking to People, Dickie Arbiter, a former palace spokesman, said that the couple is "used to being touchy-feely."
Mark Stewart, a longtime Royal photographer said, "They are not afraid to hold hands. They don't mind showing their emotions."
Emily Nash, a journalist, mentioned on Twitter that showing affection in public is not new for the Royal family members. She added that after a certain point, the fact that they hold hands will become 'boring' for the British tabloids and they will move on to something else.
Please fill in your e-mail so we can share with you our top stories!